Lewis Carroll, whose legal name was Charles Lutwidge Dodgson, provided readers with one of the most fantastical and adored lands. It shall surprise me very much to find anyone among us who hasn't dreamed of going to a riddle-filled tea party with the Mad Hatter, The March Hare, and the Dormouse in presence. Follow that up with a game of Croquet in the company of living playing cards, and your day is complete, as long as it's not "off with your head". He is one of the most imagination-provoking writers. Who pulls us into the powerful and influential World of Lewis Carroll!
He is the writer of Children's fiction, notably Alice's Adventures in Wonderland and its sequel Through the Looking-Glass, most acclaimed for his facility with wordplay, logic, and fantasy. Most of his works are classified in the genre of literary nonsense. In addition to being a writer he was a mathematician, photographer, inventor, and Anglican deacon, and as such did notable work in all of these fields.
He was by far the most thought-provoking writer of his time. All his notable work was given the prestige it required In 1982, a memorial stone to Carroll was unveiled in Poets' Corner, Westminster Abbey. There are Lewis Carroll societies in many parts of the world committed to the enjoyment and furtherance of his works.
A Walk Through the World of Lewis Carroll
The Darling Author
We have two of his most notable works mentioned here by Podium school, one being Alice's Adventures in Wonderland, and the other Through the Looking Glass. With these two we dive into The Powerful & Influential World of Lewis Carroll head-on.
Alice's Adventures in Wonderland
Alice's Adventures in Wonderland is one of the best-known works of Victorian English fiction. Its narrative, structure, characters, and imagery have had a huge influence on popular culture and literature, especially in the fantasy genre. In this book, a young girl named Alice falls through a rabbit hole into a fantasy world of anthropomorphic creatures. Its play with logic gives the story lasting popularity with adults as well as children. His love of paradox and nonsense and his fondness for small children led to the writing of Alice's Adventures in Wonderland.
The book unbelievingly has never been out of print and has been translated into a total of 97 languages. it also has several adaptations, some more notable than others. This book is notable for being adapted for the stage, screen, radio, art, ballet, theme parks, board games, and video games. Carroll has so influenced the world with his books, making Alice, the Cheshire Cat, and the White Rabbit some of the world's most recognizable characters. Leaving there to be no doubt of the impact with his writing to live on for generations to come.
Through the Looking Glass
This book is a sequel to Alice's Adventures in Wonderland, where she enters a fantastical world by climbing through a mirror into a world that she can see beyond it. Here, she finds that, just like a reflection, everything is reversed, including logic. Where the twist is whatever you do, the opposite of that actually happens. For example, Running helps one remain stationary, walking away from something brings one towards it, chessmen are alive, nursery rhyme characters exist, and so on.
The story describes Alice's further adventures as she moves through a mirror into another world of illogical behavior, dominated by chessboards and chess pieces. It was the first of the "Alice" stories to gain such widespread popularity. Which prompted a newfound appreciation for its predecessor when it was published.
The Whimsical Bard from Wonderland
As well as creating the world of Wonderland, Lewis Carroll is also famous for his nonsense poems. He published his first poem, "Solitude" in 1856 under the pseudonym he would become famous for – "Lewis Carroll." "Jabberwocky" another well-known of his works is a nonsense poem written about the killing of a creature named "the Jabberwocky". It was included in his 1871 novel Through the Looking-Glass, the sequel to Alice's Adventures in Wonderland (1865).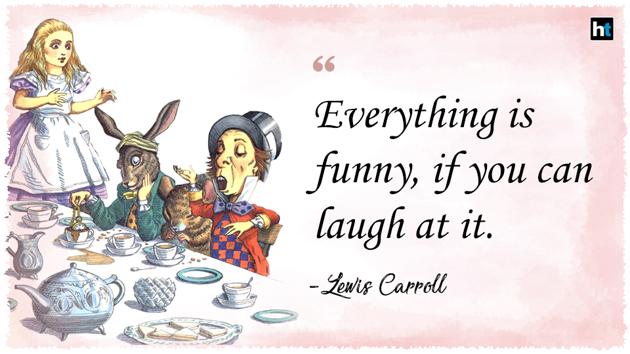 Here we list out Podium School's most favorite Poems by Lewis Carroll, and they are;
1. The Crocodile
2. You are Old, Father William
3. Twinkle, Twinkle Little Bat
4. The Mock Turtle's Song
5. Jabberwocky
6. The Walrus and the Carpenter
Mathematician: The Mathematical Prodigy Lewis Carroll
Carroll worked primarily in the fields of geometry, linear and matrix algebra, mathematical logic, and recreational mathematics. Carroll produced nearly a dozen books under his real name in the field of Mathematics. Sadly enough, some of his work in Mathematics didn't see the light of day until well after his death.
Carroll also developed new ideas in linear algebra (e.g., the first printed proof of the Kronecker–Capelli theorem). The discovery in the 1990s of additional ciphers that Dodgson had constructed, in addition to his "Memoria Technica", showed that he had employed sophisticated mathematical ideas in their creation.
Photographer: Flashing into the World of Lewis Carroll
Lewis Carroll took up the new art form of photography under the influence of his uncle in 1856. He soon excelled at the art and became a well-known gentleman-photographer. He also found photography to be a useful entrée into higher social circles. During the most productive part of his career, he made portraits of notable sitters such as John Everett Millais, Ellen Terry, Dante Gabriel Rossetti, Julia Margaret Cameron, Michael Faraday, Lord Salisbury, and Alfred Tennyson. Carroll also made many studies of men, women, boys, and landscapes; his subjects also include skeletons, dolls, dogs, statues, paintings, and trees.
By the time that Carroll abruptly ceased photography, he had established his own studio on the roof of Tom Quad, created around 3,000 images, and was an amateur master of the medium. However, He stopped taking photographs because keeping his studio working was too time-consuming.
Inventor: Lewis Carroll the Eccentric Genius
Firstly, Carroll invented "The Wonderland Postage-Stamp Case" in 1889 to promote Letter Writing. This was a cloth-backed folder with twelve slots, two marked for inserting the most used penny stamp, and one each for the other current denominations up to one shilling. Also, His inventions give us a view of The Powerful & Influential World that Lewis Carroll had.
Another invention was a writing tablet called the nyctograph that allowed notetaking in the dark, thus eliminating the need to get out of bed and strike a light when one woke with an idea.
Some other items include;
A rule for finding the day of the week for any date
2. A means for justifying right margins on a typewriter
3. A steering device for a velociam (a type of tricycle)
4. Fairer elimination rules for tennis tournaments
5. A new sort of postal money order; rules for reckoning postage
6. A double-sided adhesive strip to fasten envelopes or mount things in books
7. A device for helping a bedridden invalid to read from a book placed sideways
8. Two ciphers for cryptography etc.
Share with your friends