When we talk about our health we usually refer to our physical health but we forget that mental health is as much as important as our physical health. If we describe it in simple words then mental health means the way people feel, behave and think. It is very important to take care of our overall health. Most of the time people confuse mental health with mental illness which is why it is still a taboo in our society. But in recent times scenario has changed a little in the positive direction. People are now talking openly about it. And in movies and books also people with mental health issues are shown in a respectable way.
Today, Podium School has brought some incredible books that are themed towards mental health and will make readers realize why it becomes important to take care of our mental health.
Mental Health Centric Books for You
The Silent Patient
The Silent Patient written by Alex Michaelides is the story of Alicia Berenson. She had a seemingly perfect life but one evening six years ago, changed it. Her husband was murdered and she was the one accused of it. Since that day she has not spoken a single word and is admitted to the mental health care unit called The Grove. Then comes Theo Faber, a psychotherapist and is determined to take good care of her and bring out the trust. It is a suspense thriller and the ending of this book will tie knots to the reader's mind.

The Woman in The Window
Written by AJ Finn, The Woman in the window is the story of Anna. She is going through a tough phase of mental health after she lost her family in an accident. Its been ten months since she stepped out of her house. All she does is sit in her house, read and drink wine. Then new neighbor Russles arrives in her neighborhood and she is quickly attracted to them as it is a seemingly perfect family. A little window in her house is the only escape she has to the outer world. One day she saw something strange but no one believed her because of her mental state. This book is a must-read.
Norwegian Wood
An emotional roller coaster story of Toru Watanabe. While hearing a Beatles song, he gets transported to twenty years back in Tokyo. He recalls everything about those days like friendships, casual relationships, and all such activities. Toru also remembers Kizuki, the girlfriend of his best friend. And how she struggled a lot with her mental health after his death. It will show you that sometimes emotions can be way too overpowering. This book will also show you that connecting with nature is one of the best ways of healing. This book will definitely wet the eyes of readers.
All The Bright Places
It is the story of two students Violet and Theodore. Violet lost her sister and is contemplating suicide. They both are going through a lot of emotional struggles in their personal lives and end up developing a strong bond with each other. Their friendship changed their lives in a positive way and helped them in finding solace and improve their mental health. Centre themes of the book are Grief, Trauma, Purpose, and Survivorship.
It's Kind of a Funny Story
Craig is a fifteen year old kid who faces difficulty in coping up with his studies and academics. As a result of which he becomes depressed and even attempts to commit suicide, failing to which he is admitted to a mental health care unit. The story is inspired by author's own struggles. This novel can be too emotional for readers.
My Heart and Other Black Holes
Yet another teenager-centric book is My heart and other black holes by Jasmine Warga. The protagonist of the book is 16 years old Aysel who is always plotting his suicide. Then she meets Roman. It is the story of two teenagers who are isolated, depressed. They both meet each other randomly on a social site and become partners in suicide. As the time starts approaching she starts questioning herself if she really wants to commit suicide. The book gives a good message that things might be bad but they will get better eventually. It is a beautiful and must-read book for kids above the age of 14.
Girl, Interrupted
Based on a true story, Girl interrupted is about the author's experience. As a young woman in a psychiatric health care unit in America after she was diagnosed with a borderline personality disorder. Because of which she made a suicide attempt as well. It touches a lot of serious issues. Young readers must avoid reading this book. There is a movie based on the book starring Angelina Jolie.
The Rest of Us Just Live Here
Last we have the Rest of us just live here by Patrick Ness on our list. It revolves around a group of high schoolers who are battling with different issues in their personal lives. Namely, Mel is suffering from an eating disorder, Henna is going through some family issues, and Mikey who is suffering from anxiety and OCD. It is the beautiful story of how their friendship is all they have. It is a perfect book for kids of 14 and above.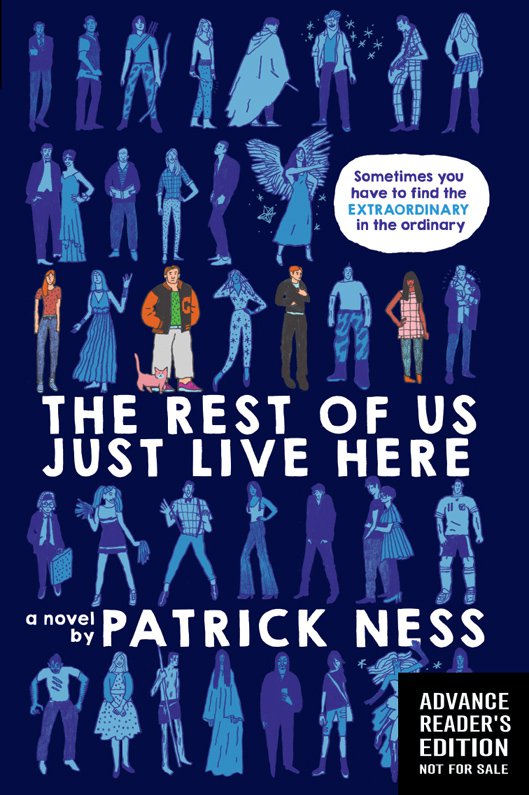 Final Thoughts on Books About Mental Health
Talking about mental health has become a need of the hour. Mass media has also started giving focus to it. Only a reader knows that books are great to know about fictional and no fictional things and emotions. The books mentioned above focus on mental health and they talk about different aspects of mental health. Most of these books recommended by Podium are awakening about mental health as well as emotional. Readers must give these books a try.
Share with your friends