We all know what the word 'Etiquette' means but, does everyone know about it! In fact, we could have a small debate about etiquette in society or in today's world. The word could be a very powerful word when it is used correctly. Authors have come up with many books for etiquette.
Additionally, not only speaking will show your etiquette but, a small act of kindness would work great. But, before that, small kids or even teenagers who have less idea about should start getting to know what the word means.
In fact, in a very recent study, most parents were asked what do they expect from their children? The parents ranked their importance in this way: responsibility, hard work, empathy, helping others, good manners, and many more.
Books to Teach Your Child Good Manners (Books for Etiquette)
We have come here to solve that part of parent's problem where they think that how could their child learn etiquette. There are thousands of books for etiquette written on this field by many writers, but we have shortlisted some of the best.
To be honest, teaching your child about the ins and outs could be exhausting. So, it is better to use the easier way possible for the kids and for the parents as well. So, here is a list of heartwarming books for kids to teach empathy and kindness.
This is one of the best beautifully-crafted picture books ever written for young children. It is the bestselling book when it comes to the power of act and kindness. The book has been written by Kadir Nelson and has been rated 4.2 out of 5 from Goodreads and 4.5 out of 5 from Barnes & Noble.
We see a rabbit and a mouse planting vegetable seeds. The most interesting part is they have patience and wait for the seeds to grow. On the other hand, the birds wish to steal all the seeds that they have planted.
So, the rabbit, mouse, and birds come to an agreement about who will get the food. The Rabbit do not want to share the fruit from the seed. But, the mouse offers the bird a tomato, and in return, the bird responds with kindness. The birds spread more seeds as they fly which further helps them grow more tomatoes.
Manners (Books for Etiquette)
Yes, there is a book written for kids on "Manners". This manner book has been written by the wonderful Aliki Brandenberg. It is one of the best children's handbooks when it comes to manners. The book is filled with amazing characters and their role plays.
"You Are Interrupting Again Leon" is one of the famous playlets present in the book. Through the colorful illustrations, the book teaches some good basic manners. In fact, not only for young children but, it could be useful for parents and other elders as well. They would surely not forget to chuckle along the way of reading.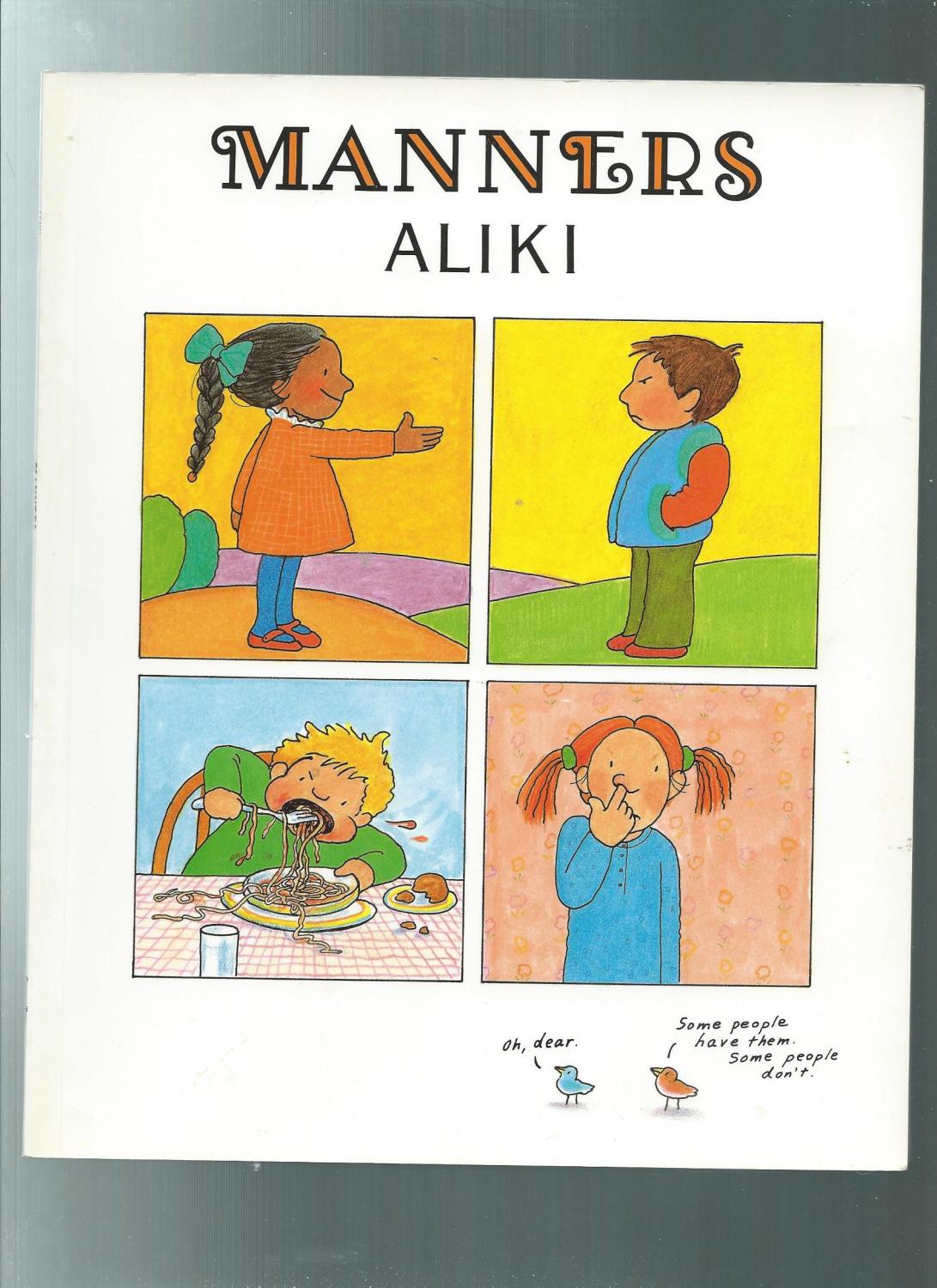 Just like its long name, the book teaches a lot of great basics to young children. The book has been written by Christine Baldacchino and it is one of the best from her to date. Additionally, the book has received 4.2 out of 5 from Goodreads.
The story is about a little boy named, Morris. He loves using his wide imagination and loves to dreams. Morris often dreams about having a space adventure, painting pictures, and singing. But, other than that, he loves his classroom dress-up center. Morris loves wearing tangerine dresses.
But, his classmates think he does not dress appropriately. They say that dresses are for girls and boys building spaceships does not welcome him. Unfortunately, one day the limit goes very high and he does not feel like going to school. Back at home, Morris reads about Elephants, puts together a puzzle, and has space adventures.
Morris then paints a beautiful scene that he had dreamt about and brings it to school. He even builds his unique spaceship and takes two of his mates on a space adventure. This is a great story for children about courage, facing challenges, and creativity.
The Grouchy Ladybug
This is a 1977-written children's book that depicts a very important concept of friendship and good manners. The beautifully-crafted book has been written by Eric Carle, who has also given us "The Very Hungry Caterpillar". "The Grouchy Ladybug" was published in the United Kingdom under the title "The Bad-Tempered Ladybug".
In fact, this beautiful book has received 4.1 out of 5 from Goodreads, 4.3 out of 5 from Barnes & Noble, and 5 out of 5 from Booktopia.
The story is about two ladybugs one is friendly and the other Grouchy. In fact, the Grouchy challenges the friendly to fight over what they should eat. Then the Grouchy encounters many animals and becomes tired in front of the friendly one.
The Grouchy never says the words "thank you" or "please" but, in the end, she learns a lesson.
The Bad Seed
Yes, we do have a movie of the same name. The Bad Seed is a book for children that have been written by Jory John. Interestingly, it is the #1 New York Times Bestseller when it comes to children's picture books. The book has received 4.3 out of 5 from Goodreads and 5 out of 5 from Barnes & Noble.
Just like its name, this book or the story is about a bad seed. The seed has a very bad temper and bad manners, and a bad attitude as well. In fact, the bad seed does not even know when he started becoming a bad seed. He does not listen to anyone, stares at everybody, and cuts in line.
Additionally, Halloween is the seed's favorite holiday of the year. Overall, the story is quite funny and teaches a good value that positive change is possible for everyone out there.
Conclusion
These are some of the best books for etiquette for your children to increase their morals through stories. We are quite sure that young children and especially their parents would find this interesting. Still, other than these there are many others books related to the topic.