A.A. Milne books, much like Beatrix Potter and Enid Blyton conjure a world of lively innocence for their readers.
Alan Alexander Milne was born on January 18th, 1882, in Kilburn, London. Known for his Winnie-the-Pooh series, A.A. Milne books include several publications- mostly children's fiction, crime fiction, nonfiction publications, dramas, and poetry compilations.
In 1903, after graduating from Cambridge University, Milne joined the staff of Punch in 1906 as an assistant editor. He then published witty poetry and quirky articles. In the 1920s, Milne began a prosperous career as a novelist, writer, and dramatist after entering Trinity College, Cambridge, and also contributed to Granta and Punch's literary journals.
Podium School thinks highly of this master of literature. Check out our curated list of the best A.A. Milne books which is handpicked by our team for budding bibliophiles!
Best A.A. Milne books for reading enthusiasts
Winnie-the-Pooh
This masterwork in children's literature portrays the strength of a child's imaginations like nothing else. It is also the author's world-famous tale. Centered in the Hundred Acre Wood, the book features Christopher Robin's favorite teddy bear, Winnie-the-Pooh. Also there are his pals- Piglet, Owl, and the ever-doleful Eeyore. Catch the title sequence of the cartoon series based on the books!
Winnie-the-Pooh has ageless knowledge and phrases that will connect with you regardless of your age. Right from when Piglet and Pooh attempt to catch a Heffalump to when Eeyore loses his tail and Pooh goes outside to retrieve it. What's our favorite quote? "How do you spell love?" Piglet inquires. "You don't spell it; you feel it," Pooh says.
The House at Pooh Corner
We encounter the noisy and enthusiastic Tigger in this second edition of Winnie-the-Pooh and his pals in the renowned forests. He has a penchant for hopping and frequently announces himself. He does that by proclaiming that the correct way to spell his name "T-I-double-guh-err."
Christopher Robin's maturation is hinted at throughout the book, culminating in the last chapter. When the people give him a goodbye party after learning he would be leaving them shortly.
"Wherever they go, and whatever happens to them on the way, in that enchanted place on the top of the forest, a little boy and his Bear will always be playing," the last sentence states.
Now We Are Six
Now We Are Six by A.A. Milne is a sequel of poetry that explores youth from the perspective of a six-year-old Christopher Robin. It finds our darling Pooh assisting him with his schooling.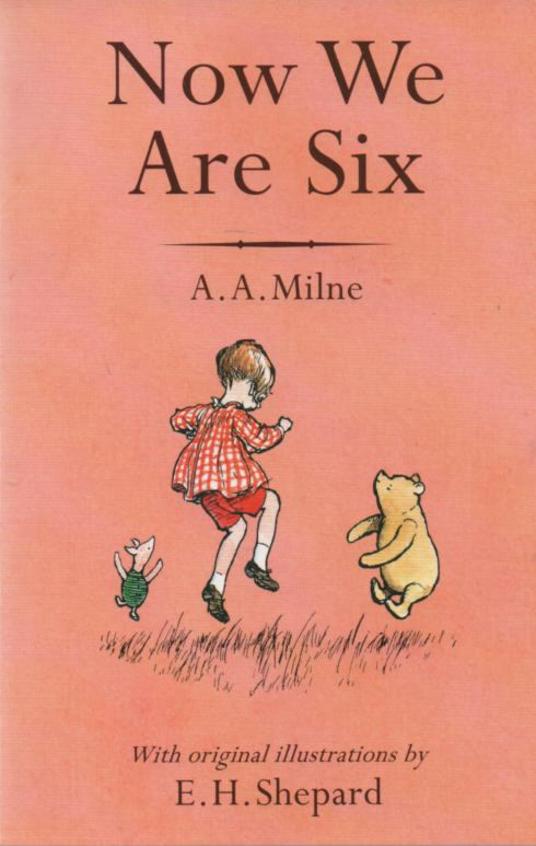 'Now we are Six' is a book to treasure today and passes down through the generations for years to come, with gorgeous drawings by E.H. Shepard. It has an Eric Carle-like instructional quality which makes it the favoured read of young fans.
When We Were Very Young
Released back in 1924, this innocent read became an instant hit, attracting grownups and kids alike. It includes forty-five poems with a few instances of the juvenile language common in children's poetry in the early 1920s.
When We Were Very Young's final stanza was composed first, in 1922. Initially published in 1923, founded on Alan and Daphne Milne's observations of their two-year-old son praying. Milne's biographer, Ann Thwaite, describes the entry "Vespers" as a sarcastic poem written by a man who was uninterested in prayer or traditional religion.
The poem's inspiration was the couple's son, Christopher Robin, who would inspire the namesake character in Milne's Pooh books.
The Red House Mystery
The Red House Mystery, AA Milne's whodunnit investigative tale that investigates a perplexing crime, takes you far off from the peaceful occurrences of Hundred Acre Wood. It's a lost treasure from a period before Winnie-the-Pooh, full of "By Jove!" and "I say, old man!"
The brilliance of Milne's writing is attested to by the master of British humor himself, P.G. Wodehouse. Now, that is a recommendation you can't ignore.
The Christopher Robin Birthday Book
One of the most entertaining A.A. Milne books, The Christopher Robin Birthday Book also offers his take on non-binary pronouns.
This is the book where Milne mentions 'heesh' (a mix of he and she) as a pronoun as he tries to address Pooh's identity. However, some theorists are of the view that Milne ended up tilting towards 'he' rather than 'she', so 'heesh' doesn't even have a point. But this is a discussion for another time.
When it comes to the other features of the book, each page features a black and white illustration by E.H. Shephard and a character quote. However, unlike all A.A. Milne books, this also doubles up as a birthday journal for kids.
It's Too Late Now: The Autobiography of a Writer
It's Too Late Now is an autobiography by A. A. Milne, filled with his trademark self-deprecating humor. The book is fond memoir which recounts his journey from a pleasant youth to writing children's books and poetry.
Milne's disdain for critic Dorothy Parker and his bonhomie with fellow writers like J.M. Barrie and Rudyard Kipling are some details which have been discussed in this book. Consider this an interesting and informative look into one of our time's finest writers through his eyes.
The Best Bear in All the World
Winter, Spring, Summer, and Fall: take a trip back to the Hundred Acre Wood with a collection of tales sure to delight year-round. Winnie-the-Pooh and Piglet go on a journey to locate the "Sauce of the Nile" (they imagine it's apple) in one tale. In another, when Eeyore believes he detects another donkey coveting his clover, all the creatures gather around him.
A new penguin figure appears in the winter tale, modeled on a plush toy held by A.A. Milne's son Christopher Robin Milne. This important collection of Pooh tales will delight readers of all ages as they reconnect with old friends and make new ones. Mark Burgess created some stunning color artwork in the manner of Ernest H. Shepard for the book.
The unending magic of A.A. Milne books
Consisting some of the most classic masterpieces, we hope that our list of A.A. Milne books gives you your next read. We intend that through this list we were able to pay a small tribute to this brilliant and witty writer. Literary elegance and juvenile delight combined, A.A. Milne books remain a premier read for any children's fiction enthusiast to this day.