Non-organic and chemically ridden Rangoli colors are being increasingly replaced with homemade variants. The tilt towards homemade Rangoli colors is a nod to the age-old tradition of going back to the minimal basics. This has two advantages- first, you get some brilliant and unusual shades never seen before, and second, you're not harming the pristine nature.
Therefore, to encourage your newfound Diwali obsession with making beautiful floor patterns, we add our own dash of uniqueness and bring to you the ultimate guide to homemade Rangoli colors. In case, you do not know what a Rangoli is, allow us to be your lead.
What is Rangoli?
Rangoli is the traditional floor design decorating the courtyard floors of many Indian homes. Rangoli has many varieties like Alpana, Aripana, and Kolam. Designs are often passed down through generations, and family traditions.
The terms 'Rang' and 'Aavalli,' both of which refer to a row of colors, inspired the name 'Rangoli.' Rangolis have different designs and colors depending on where they are made, but they always follow the same basic patterns. A Rangoli's structure is usually symmetrical. Design patterns often include animals, flowers, and other natural elements along with regular curves, lines, dots, and geometric shapes.
The Significance of Rangoli
Diwali is a Hindu celebration that celebrates Goddess Lakshmi's entrance. Therefore, Rangolis signify the auspicious entry of the celebrated Goddess. Patterns are often made using colored chalk, rice flour, and crushed limestone. However, people love to make Rangolis with crushed flowers, sandalwood powder, turmeric, and vermillion.
A Rangoli may be as big as you want it to be. The vast majority of Rangolis are the size of a doormat. However, patterns can be as small as the size of a dinner bowl and can be larger enough to cover the whole floor. Kalamezhuthu is a popular temple art form where Rangoli acquires a grand scale. Read more about it here!
Rangolis are popular among the rural populace as well as residents of city structures with limited space. In larger houses, like bungalows, it is not uncommon to have an entire courtyard filled with a colorfully painted Rangoli.
How to Make Homemade Rangoli Powder this Diwali?
Below are the top homemade Rangoli colors you can make with kitchen ingredients readily available at your home.
Pretty Pink
The key to creating soft, pretty pink homemade Rangoli colors is roses. Dry out some pink roses and crush their petals to obtain a pink shade. Other options can be to mix some drops of Rooh Afza syrup with flour.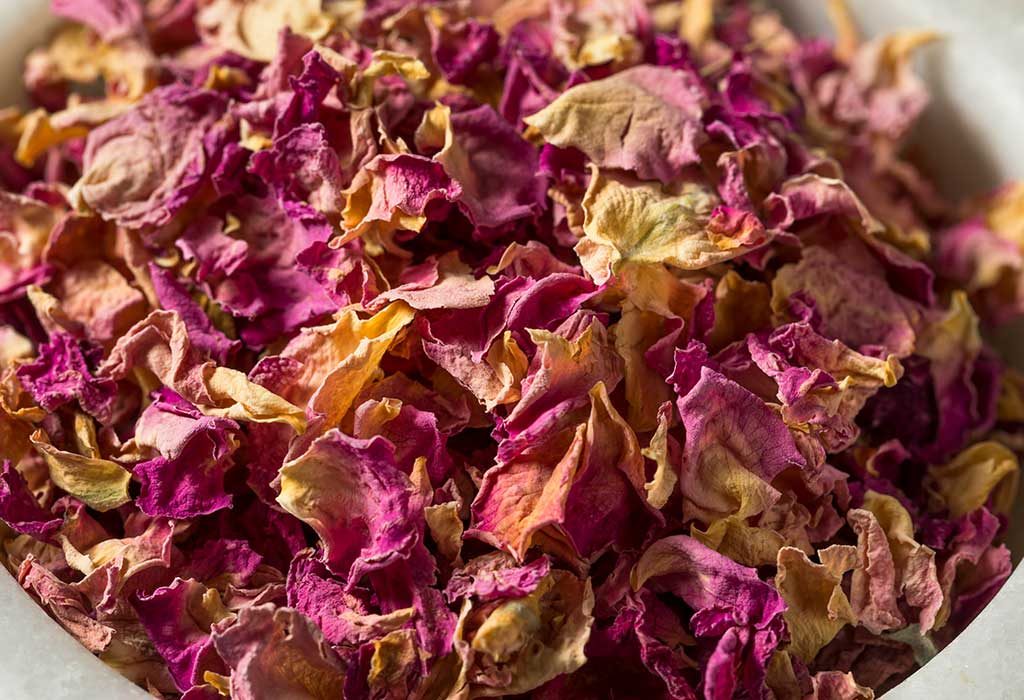 Cherry Red
For special events, cherry red is a rich and attractive hue that may paint rangoli. Use dried beetroot flakes as the main ingredient, which is a great idea. Or if you want to go towards cherry red- crush up some strawberry or cherries and mix their juice with rice flour.
Outstanding Orange
Orange is a bright, colorful, and undeniably summery hue. Dry off some orange rind and grind it into a semi-course powder. You may also use sandalwood powder or orange food color mixed with flour.
Gorgeous Green
To make your own homemade Rangoli colours, try making this green rangoli powder using green herbs and vegetables. Rangoli powder is made from crushed dried green leaves. Or use some finely torn-up grass and leaves for a bright peridot green. You can also mix up some mint juice with rice powder to get a light pastel green.
Precious Purple
Purple is a rare hue that speaks of everything regal. Use dried lavender flowers as the primary basis to make purple rangoli powder at home. Or if you don't find lavender to make purple- mix some Jamun juice in rice powder or coarse salt to get this brilliant hue.
Brilliant Brown
Create some unusual homemade rangoli colors and add a rich brown to the ensemble. The main ingredient for brown is cinnamon sticks. Dry cinnamon powder to make this fragrant color this Diwali. Or the best option is to substitute dry mud or powdered potter's clay.
Wonderful White
One of the simplest homemade Rangoli colors to make, you can bring rice to make a coarse white powder. That's it! However, if you're out of rice, you can sneak out some of that refined flour (Maida) from the kitchen to fill a brilliant white to dazzle your Rangoli designs.
Rainbow Rangoli Powder
This beautiful homemade Rangoli color can be made from mixing a huge variety of dried flowers. It's simple, either dry out a mix of marigold, rose, lavender, violets, and gerberas- or pick out some dried blooms lying around and mix them up. Crush fresh petals and dry them out for a bit. Mix them with coarse salt or rice flour to jazz up your patterns with an exquisite hue.
Final Thoughts
The main aim of going green is to make goods out of natural resources rather than non-organic ones. Homemade Rangoli colors are an excellent departure from chemical hues. Therefore, you are not only welcoming wealth and prosperity in festive seasons but are also worshipping our earth, which has provided us sustenance. Going environment friendly has other benefits- when you sweep the design away after festivities, you can put these colors into the soil. Being biodegradable, the colors will decompose easily and will not leave a toxic residue.
Thus, we affirm that making colors for Rangoli at home can be as creatively enriching as making the floor pattern. Podium School appreciates this spirit of creativity which protects the planet.
For more tips to jazz up your festivals with some artistry, check out our regular updates on Art and craft ideas. You may begin with these attractive and simple flower pot painting ideas, here!