The thought of your child learning and enjoying simultaneously is what every parent dreams of. Well, what if we tell you we can make it happen in reality with just a little bit of perseverance and patience. Let's learn how to raise a reader!
In a world as competitive as ours it is understandable to worry about your child's future. You may mull over the uncertainties and challenges your kid might have to face while growing up. Well, fret not because here we are with the guide that will equip your kid with the tool of reading. Reading at an early age has proven to have numerous benefits.
When you furnish your child with the habit of reading, you provide them with a lifelong trump card. Initially, it may seem challenging and the reality may look a little different than we have imagined but with time it will start falling into place!
When to Start Reading to Raise a Reader
Whether you have a young kid, preschooler, toddler, or a baby, do not hesitate from starting today! Research suggests that babies as young as six months respond positively to reading to them. Reading stimulates their sensory awareness and also, promotes the formation of new brain cells. Therefore, to raise a reader you must start from today!
Reading is inexpensive and fun. Visit your local library and choose books according to your child's preference and needs. You can even start visiting stores. Though you don't need a personal library to get started, you can eventually build one if you desire. Also, encourage, your child to borrow and lend books from their friends. This will inculcate love for reading among young minds.
Reading to Babies
Babies are attracted to picture books with bold and colorful images. They are unable to comprehend the words however, conversing while showing them the books is recommended. Babies respond positively to images with contrast. As they grow older (7 to 12 months) you may introduce them to picture books with simple words or phrases. Interact with them while showing them the picture and reading-related words, "What's this? That's a car!"
Similarly, acquaint your babies with books that comprise simple moral stories as they grow. You can include nursery rhymes and short storybooks. Read to them and interactively ask questions to include them. Children love big, thick sturdy books made from cardboard, cloth, or vinyl (watch them transitioning from reading time to playtime).
Books for babies:
Pat the Bunny by Dorothy Kunhardt: classic infant book with tactile stimulation
Mr Brown Can Moo, Can you? by Dr Seuss: Board book containing animal and other sounds
Goodnight Moon by Margaret Wise Brown: Colourful and fun board book
My first baby signs by Linda Acredolo: Introduce baby signs and baby faces
Everywhere Babies by Susan Meyers: Introduction to the diversity of world with fun illustrations.
Reading to Toddlers
Toddlers love reading books about animals, fruits, vegetables, vehicles, and familiar characters and scenes. Moreover, research suggests toddlers love seeing other babies. Therefore, buy some baby books. They feel included and understood while discovering the magnificent world around them. Therefore, introduce them to such books.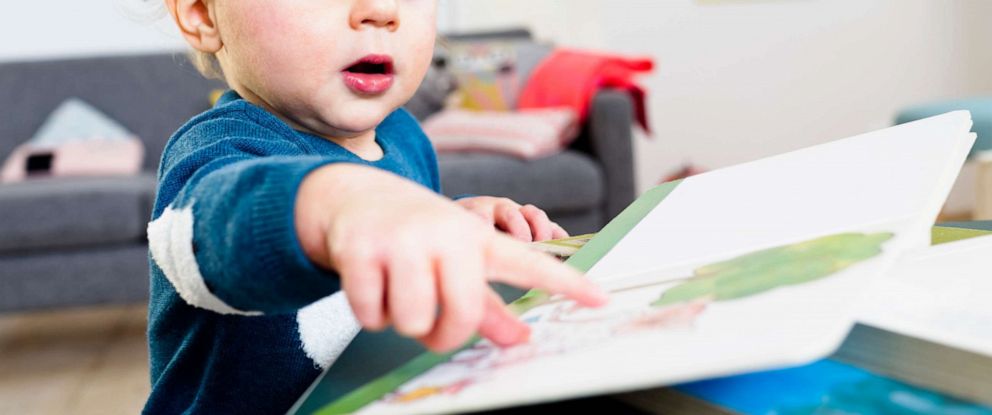 Also, they would enjoy discovering books that contain short stories where characters have to make a decision or overcome a difficulty. While reading such books, you may ask, "Do you like the color she is wearing? What colour is the table?" Do not pressurize them if they do not feel like answering, just carry on with your reading. You may be surprised to hear the answer while you are tucking them to sleep or while they are watching their cartoon series.
If they tend to favor books or ask you to read some favorites again and again do that! You may choose books that include rhyming and singing. In a while, you will be rhyming those texts with your little one. Help them connect with the stories. At this age, you may also help them understand the significance of books and teach them to respect and handle them with care. Refrain them from tearing pages or disrespecting books.
Some books for toddlers to start with:
Sheep in a Jeep by Nancy Shaw: Contains quick short rhymes
Fly-away Ladybug by Lamaze: contains educational classic fun stories
Brown Bear, Brown Bear, What do you see? by Bill Martin Junior and Eric Carle: classic children's book featuring animals and colours
Soccer by Salina Yoon: Introduction to physical activities
On the Night You Were Born by Nancy Tillman: Lyrical book with a heartwarming message of unconditional love
Time for bed by Mem Fox: comprises soothing language to induce sleep
Reading to Children
Children are acquainted with reading and have developed preferences as compared to toddlers. They may still prefer picture books with texts. Introducing them to storybooks with a complex plot and characters relatively is safe and beneficial. They have developed reading abilities at the elementary stage. Therefore, you may include them in reading. Ask them to read along with you or in the breaks.
Reading out loud stimulates sensory awareness in children. You may replace the surface question with more delving ones. For instance, "Do you think our character did the right thing or could he have done it differently? What do you think will happen next?" We cannot raise readers without inculcating critical thinking skills in them.
Some books children would love:
The Giving Tree by Shel Silverstein: Heartwarming story revolving around giving nature of the tree
The Little Prince by Antoine De Saint- Exupèry: Beautiful life lesson by the extraordinary little prince
Charlotte's Web by E.B. White: Life lessons with humour and playfulness
Where the wild things are by Maurice Sendak: Story about taking responsibility for one's actions and emotions
Love you Forever by Robert Munsch: An emotional story depicting a mother and child's bond
Wherever I go by Mary Wagley Copp and Munir D. Mohammed: Heartfelt portray of life in a refugee family
Reading to Teenagers
Reading to children does not only helps them academically but also emotionally. Hence, you may continue reading to them in their teenage years. This will strengthen your bond with your child, give you quality time with your kid while learning. You may gauge their fluency and comprehension skills. You can ask them to choose books according to their preference.
Some parents feel their teenagers are being distant or avoiding interactions with them. Continuing reading with them fosters love and bolsters understanding. Along with practising good parenting skills spending quality time with them bridges gaps. Let your child choose books and read with them. Eventually, you may also feel your child being more open to you and confiding in you. Set aside time or allot separate reading time if your schedule is busy.
Recommendation for teenagers:
Harry Potter Series by J.K. Rowling
The Perks of Being a Wallflower by Stephen Chbosky
The Book Thief by Mark Zusak
Eleanor & Park by Rainbow Rowell
Looking for Alaska by John Green
To Kill a Mockingbird by Harper Lee
Tips to Raise a Reader
We are aware of the benefits of reading and what kind of books appeal to different age groups. Now, it's time to delve into tips to raise a reader. Reading to children is not a cakewalk, especially if we are introducing them to reading. Be prepared to encounter endless whining, running away, not paying attention (to your existence), making excuses, or even attempting to devour colorful pages!
Introducing reading is a challenging yet rewarding business. Therefore, do not lose hope and with our guide, a little bit of motivation and patience raise your reader! Therefore, follow the tips to make reading an enjoyable and satisfying experience and to raise a lifelong reader.
Start Early and Stay Consistent With it
We have already mentioned the innumerable benefits of starting early when it comes to reading to your child. However, no matter at what time you start just make a point to stay consistent with it. Whether you decide to read one chapter, one book, the same book or a few books it's up to you, just don't skip the reading time! Make reading a part of your routine to reap the benefits of reading.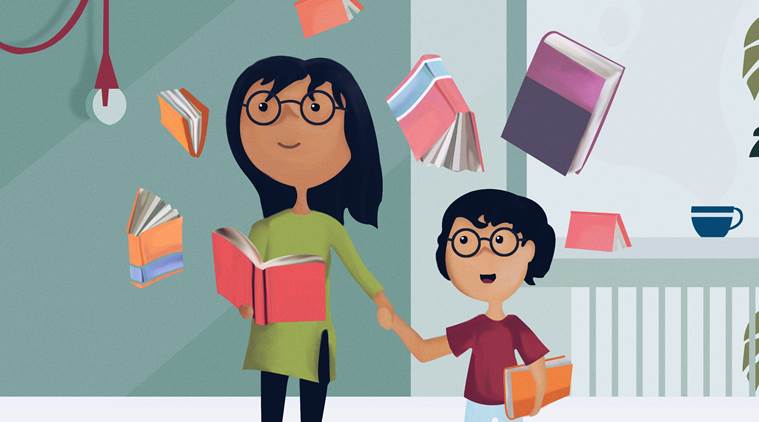 Reading Out Loud and Using Senses
Did you know when you read out loud, directed at the child it impacts directly on their language development and literacy? Especially when you read to an infant or toddler, the content doesn't matter much, what matters is the rhythm of your voice!
Read aloud with a soothing rhythm and don't forget to enjoy yourself too. Similarly, using other senses, feeling of pages, looking at bright illustrations while reading is proven beneficial for a tactile experience.
Choosing Atmosphere
Atmosphere plays an important role while inculcating any habit. Choose a serene, comfortable atmosphere that suits both your and your child's needs and tastes. You can decide to read before bed every night or even read throughout the day.
It's fun and familiar to read every night but reading while it's still lights out has its own perks and privileges. Sit in your favorite armchair or swing and savor the delights reading offer you.
The Personal Space and Making it Fun
Every child is unique and has their own set of quirks that work or may not work for them. They learn and grow at their own pace. We highly recommend not to interrupt or pressurize their learning pace. Some children start reading independently as early as five years while some take more time and both the process is acceptable!
Nowadays, schools for even young children might be hectic. They may feel under pressure to read and to accomplish. Therefore try to make reading at home fun, beautiful and inspiring. Let kids choose books according to their preferences and read together. This will not only help them vicariously in academics but also strengthen your bond with your child. Induce curiosity, not fear!
Pas De Deux: Include Your Child
Know that reading to your child can not be one way. It sure starts with the caregiver but eventually requires the involvement of the child. Get your baby talking. Emit sounds, try to communicate with your toddler. Let your child take turns to read, turn pages and handle the pace. The more you will involve them, the more wholesome the reading experience will be!
Choose Diverse Books
Encourage your child to show independent taste in reading and don't go all haywire when your child doesn't find the exquisite classic "Charlie and the chocolate factory" by Roald Dahl as interesting as you did as a child.
Know that every kid is different and has their own preference. Meanwhile, introduce your kid to diverse books, including manga, storybooks, fiction, fairytales, thrillers and everything you can. We live in a diverse world, therefore, it is great to acquaint your child with books that deal with diverse characters, traditions, and beliefs. It will not only prepare them for the outside world but also make them feel understood.
Reacquaint Yourself With Reading
It is no new knowledge that kids are great at mimicking! They often mimic elders and those around them. Therefore, it is apparent that even if your child seems to be a reluctant reader at the start, they might eventually adopt the habit when they see you reading. Know in order to raise a reader, you have to become a reader!
Final Thoughts
With books, some patience, and perseverance reading will be a fun pursuit. Thus, get motivated and advertise the joy of reading to your little humans! With our simple and fun tips, you can easily raise a bookworm that would blossom into a happy, tolerant and responsible individual.
Enrich their minds and cultivate a lifelong love for printed words. Wait for that magical breakthrough moment when your child will show interest in reading and surprise you with their skills. If you still have doubts or are not sure where to start from, consider seeking professional guidance or help from a local librarian.
Also, don't forget to check out more updates on the Podium Blog on parenting, book, and film recommendations for your young ones or simple art and craft that will keep them going!