Who was Mahatma Gandhi?
The struggle for Indian independence was not an easy one. Pushing the Britishers out of our own country was a difficult task and it asked for the blood of millions. There were many freedom fighters who gave their everything for the nation and its people. Strategies after strategies were made to get success in the moto that the whole nation shared at that time. Some freedom fighters were diplomatic in their approach while some were fighters and were fighting continuously for freedom. In all those names there was a name Mahatma Gandhi who had a very different approach from all the other freedom fighters. His approach was non-violence.
It would not be wrong to say that we know a lot about his life as he is still a very prominent name in our media but there are still many things that we need to know about him. In this article, we going to talk about all the aspects of his life how he contributed to the freedom of our nation. Other than that we are also going to talk about some of his ideologies that you can adopt in your life.
A Little Biography of Mahatma Gandhi
Mohandas Karamchand Gandhi better known as Mahatma Gandhi was an Indian lawyer, anti-colonial nationalist, and political ethicist. He was one of the most prominent faces of the Indian freedom struggle and employed nonviolent resistance to lead the successful campaign for India's independence from British rule. He was born on 2 October 1869 in Porbandar, Gujarat. And got married to Kasturba Gandhi in 1883. After the nation's freedom, he worked a lot on civil rights and freedom across the world.
Not only that Assuming leadership of the Indian National Congress in 1921, Gandhi also led nationwide campaigns for easing poverty, expanding women's rights, building religious and ethnic amity, ending untouchability, and, above all, achieving swaraj or self-rule.
He died by an assassination when on 30 January 1948, Gandhi was with his grandnieces in the garden of Birla House Nathuram Godse, a Hindu nationalist, fired three bullets into his chest from a pistol at close range. Some believe that he lost his life on the spot while some say that he died a few hours later.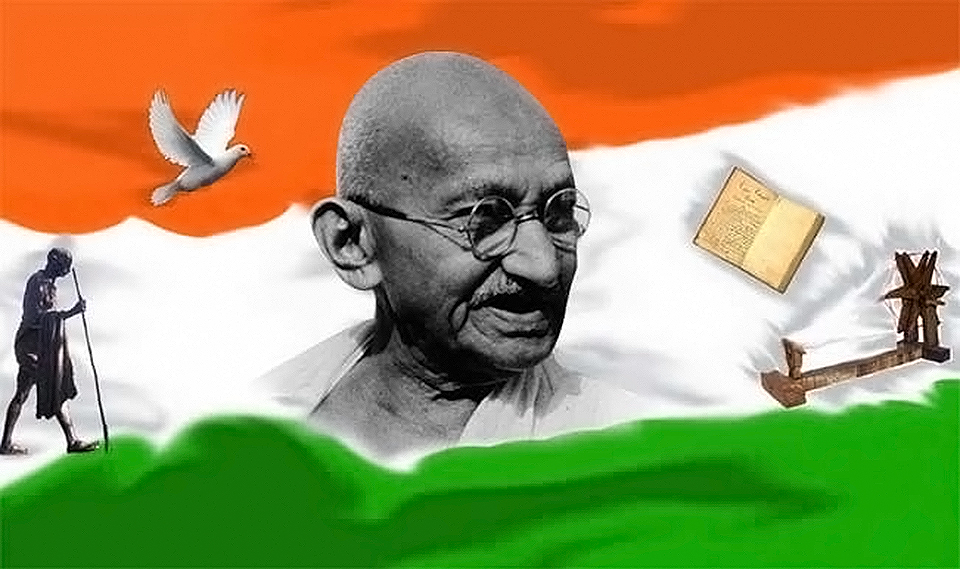 Here is a documentary on Mahatma Gandhi that will help you in understanding his life and his works a lot better and take inspiration from them:
His Life Before Coming to India
He was born in India and studied law but was unable to start a successful career in it India. So at the age of 22, he was called by Bar to London and he left India. And later was sent to Bombay for law practice but failed because he was psychologically unable to cross-examine witnesses.
Then came the turning point of his life at the age of 23 and set sail for South Africa to be the lawyer for Abdullah's cousin. There he spent 21 years and developed good knowledge in ethics and politics. But he faced a lot of racism there and worked a lot towards it. He was also forced on telling people about their civil rights and how to use them. In 1915 at the request of Gopal Krishna Gokhale, he returned to India. Along with him, he brought a whole lot of international reputation as a leading Indian nationalist, theorist, and community organizer.
Timeline of Mahatma Gandhi's Life:
| | |
| --- | --- |
| Event | Year |
| Birth | 2 October 1869 |
| Marriage | 1883 |
| Went to London | 1891 |
| Went to South Africa | 1892 |
| Returned from South Africa | 1915 |
| Died | 30 January 1948 |
Timeline of Mahatma Gandhi's Life
Role of Mahatma Gandhi in the Freedom Struggle of India
Mahatma Gandhi contributed a lot to the freedom struggle of India. He was the leader of India's non-violent independence movement against British rule. His approach was a little different from all the other people and he started a lot of movements against the English government which proved to be successful up to some extent. He was also diplomatic in his approach and built relations with important leaders and officers of the government.
He was majorly involved in the partition of India selection of the first lot of national leaders at that time.
Important Movements Started by Him
Mahatma Gandhi started a lot of important movements in different decades which were aimed towards achieving different demands and things. Here are a few important movements that you need to know about:
Quit India Movement- 1942
The quit India movement also known as the August movement was a movement started on 8 August 1942. It was launched by Mahatma Gandhi along with the All India Congress committee demanding the end of British rule in the nation. It was started after the failure of Cripps's mission and got a lot of support from the nation. It was launched solely for demanding what Gandhi called "An Orderly British Withdrawal" from India. Even though it was at war, the British were prepared to act. Almost the entire leadership of the Indian National Congress was imprisoned without trial within hours of Gandhi's speech.
But on the other hand, it was not supported by a lot of other committees like Viceroy's Council (which had a majority of Indians), of the All India Muslim League, the Hindu Mahasabha, the princely states, the Indian Imperial Police, the British Indian Army, and the Indian Civil Service.
Civil Disobedience Movement- 1930
Civil disobedience means when people stop abiding by the rules to show the opposition to something. A movement was started in India in 1930 by the people to oppose the British government. The civil disobedience movement was a landmark event in the Indian Nationalist movement and played a huge role in paving the freedom of India. It was mainly spread in the urban areas and men, women in large numbers participated in it.
Non Cooperation Movement- 1920
The Non-cooperation movement sparked soon after Worl War 1. It was done in order to stop cooperating with the British government and succeeded up to some extent. It was a political campaign launched on 4 September 1920, by Mahatma Gandhi to have Indians revoke their cooperation from the British government, with the aim of inducing the British to grant self-governance and full independence (Purna Swaraj) to India.
Some of the features of Non-cooperation movement are:
Renunciation from their titles and notable posts
Withdrawing education system done by Bristish government
To follow non-violent & peaceful to fight against the British rules.
Indians not taking part in the legislative elections
Khilafat Agiation- 1919
Khilafat Agitation is also known as the Caliphate movement. It was started by Muslims of British India led by Shaukat Ali, Maulana Mohammad Ali Jauhar, Hakim Ajmal Khan, and Abul Kalam Azad to restore the caliph of the Ottoman Caliphate. It longed from 1919 to 1924 and was a pan-Islamist political protest campaign.
Some of the main demands of the movement were:
surrending all titles and honorary offices.
resigning from the nominated seats in the local bodies.
refusal to attend government or semi- government functions.
boycott of British court by lawyer and litigants.
Champaran Satyagraha- 1917
Champaran Satyagrah was one of the earliest movements that Mahatma Gandhi started. It is considered a historically important rebellion in the Indian independence movement. Its history was that people of that village were forced to grow blue dye on their lands because of which the land gets barren. So the farmers started opposing it. Firstly, with the introduction of synthetic dye, the demand for indigo decreased which led the zamindars or planters to shred off their burden by increasing the rent burden on the peasants, which added to the existing plight of the peasants.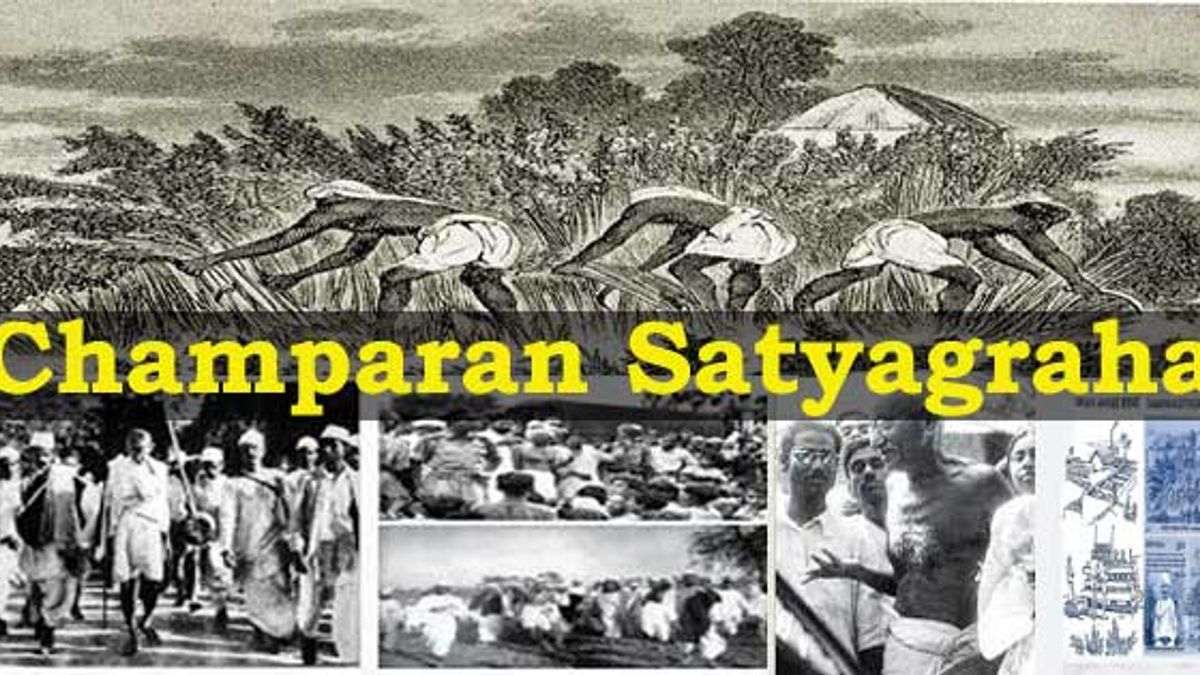 Speech, Quotes and Poems by Mahatma Gandhi to Live By
Importan and memorable speeches by Mahatma Gandhi:
Speeches have a power of their own as they help in creating a difference and leaving an impact among people. His speeches were mainly aimed towards bringing unity among Indians and starting a movement against Britishers. Here are some important speeches were given by him. You can read them on the internet or can also look for their videos:
Benaras Hindu University Speech (February 04, 1916)
Dandi March Speech (March 11, 1930)
Round Table Conference Speech, (November 30, 1931)
The 'Quit India' Speech (August 08, 1942)
Speech before His Final Fast (January 12, 1948)
Quotes by Mahatma Gandhi to live by and take inspiration from:
"Be the change that you wish to see in the world."
"Live as if you were to die tomorrow. Learn as if you were to live forever."
"When I despair, I remember that all through history the way of truth and love have always won. There have been tyrants and murderers, and for a time, they can seem invincible, but in the end, they always fall. Think of it–always."
"The weak can never forgive. Forgiveness is the attribute of the strong."
"Prayer is not asking. It is a longing of the soul. It is daily admission of one's weakness. It is better in prayer to have a heart without words than words without a heart."
"Your beliefs become your thoughts,

Your thoughts become your words,

Your words become your actions,

Your actions become your habits,

Your habits become your values,

Your values become your destiny."
"Man often becomes what he believes himself to be. If I keep on saying to myself that I cannot do a certain thing, it is possible that I may end by really becoming incapable of doing it. On the contrary, if I have the belief that I can do it, I shall surely acquire the capacity to do it even if I may not have it at the beginning."
"What difference does it make to the dead, the orphans and the homeless, whether the mad destruction is wrought under the name of totalitarianism or in the holy name of liberty or democracy?"
"You must not lose faith in humanity. Humanity is like an ocean; if a few drops of the ocean are dirty, the ocean does not become dirty."
"Let the first act of every morning be to make the following resolve for the day:

I shall not fear anyone on Earth.
I shall fear only God.
I shall not bear ill will toward anyone.
I shall not submit to injustice from anyone.
I shall conquer untruth by truth. And in resisting untruth, I shall put up with all suffering."
Some Beautifil poems written on Mahatma Gandhi
Salutation To The Father of The Nation -by By Anil Deshpande.
The Recipe – by T. P. Kailasam.
The Sacrifice.
A Poem on Gandhi.
The Night of Nights.
Father of The Nation.
Mahatma Gandhi.
Our Beloved Bapu.
Listen to this very empowering speech by Mahatma Gandhi about Truth and God
https://www.youtube.com/embed/kBsUwIfL8kU?feature=oembedSpeech by Mahatma Gandhi
Books by Mahatma Gandhi You Can Not Miss
Books are the best way to know about a person. Here are some books are written by Mahatma Gandhi, which features his takes and thinking on various issues of India.
The Story of My Experiments with Truth
The Story of My Experiments with Truth is the autobiography of Mahatma Gandhi, covering his life from early childhood through to 1921. It was published in 1927. It was published in different parts as it was written in weekly installments and published in his journal Navjivan from 1925 to 1929. It was written in the Gujarati language and was later translated into Hindi by Mahadevi Desai. And even after it was translated into English. Its English translation also appeared in installments in his other journal Young India. It holds a rating of 4.1 on Goodreads.
Mahatma Gandhi: Selected Political Writings
Mahatma Gandhi: Selected Political Writings is a complete edition of his works, this new volume presents Gandhi's most important political writings arranged around the two central themes of his political teachings: satyagraha. It was published in 1951 and has a lot of insights to it. So if you want to get some idea about the happening of things at that time then you need to read this book. It will show you what power does freedom and non-violence holds. It is 177 pages long and has a rating of 3.8 on Goodreads.
Peace: The Words and Inspiration of Mahatma Gandhi
If there is one thing that describes the whole journey of Mahatma Gandhi in the freedom struggle the that would be Peace. It is a mixture of quotations and some parts of his biography. His quote "Peace will not come out of a clash of arms but out of justice lived and done by unarmed nations in the face of odds." will forever be iconic. All the quotes that are a part of this book will give you a lot of inspiration and will make you realize that Gandhi Ji has a lot of things to teach to this world.
Third class in Indian railways
Before he returned to his native India from South Africa, where he had been working as a lawyer, Mahatma Gandhi-now known as MOHANDAS KARAMCHAND GANDHI (1869-1948), the spiritual leader of the movement for Indian independence and a passionate proponent of civil disobedience as a force for social change-was ejected from the first-class cabin of a train, even though he held a valid first-class ticket, and was forced to travel in the squalid third-class cars. In 1917, after he returned home, Gandhi produced this extraordinary look at the plight of the poor in India, as prismed through the experience of a rail journey from Mumbai to Madras. It is all about his life and experiences.
It has a rating of 3.9 on Goodreads.
Hind Swaraj
Swaraj means self-rule. It is all about the Indian home rule and his ideations about it. In it, he expresses his views on Swaraj, modern civilization, mechanization, etc. Published in 1909 book was banned in 1910 by the British government in India as a seditious text. It was originally written in Gujarati and is just 77 pages long. It holds a rating of 4.4 on Goodreads. This book actually tells us about the rule which we want and what we are getting after years of independence.
Some FAQs Related to Mahatma Gandhi and His Works
Here are answers to some questions that might come to your mind after knowing about Mahatma Gandhi and his works:
Q1. How do you write 10 lines on Mahatma Gandhi?
If you need to describe Mahatma Gandhi in just 10 lines then you need to point out only the very important things:
Full name and date of birth
His wife and date of marriage
Known as father of nation
Non-violence
A little about his lawyer life
Workes like civil rights and anti-racism that he has done
Movements started by him
Some of his important idelogies
How he is recognised on international level
His death and its cause
Q2. Why is Mahatma Gandhi important?
Mahatma Gandhi was one of the important figures of the Indian freedom struggle. And is widely recognized as one of the twentieth century's greatest political and spiritual leaders. He led a lot of important movements that contributed a lot to the freedom of our nation. Honored in India as the father of the nation, he pioneered and practiced the principle of Satyagraha.
Q3. Why Mahatma Gandhi is famous?
He is famous for a lot of different reasons and contributions that he made for the nation. Gandhi is most famous for his philosophy of nonviolence that has inspired civil rights leaders around the world. He is referred to as Mahatma or great soul.
Q4. Who was Mahatma Gandhi married to?
Mahatma Gandhi got married at the age of 13 to Kasturba Gandhi. Kasturbai Mohandas Gandhi was an Indian political activist. She was involved in the Indian independence movement in British India. She was, to a great extent, influenced by her husband. Her full name was Kasturbai Makhanji Kapadia and she died on 22 February 1944. Her date of birth is observed as National Safe Motherhood Day.
Q5. What is a central idea of Mohandas Gandhi?
There are a lot of ideas and philosophies that Mahatma Gandhi has given to the world and one should follow in their life. Some of the most important central ideas of Gandhi are:
Truth
Nonviolence
Sarvodaya
Satyagraha
Final Thoughts on Mahatma Gandhi and His Works
If you have read about the freedom struggle in a proper way or know even a little about how people suffered at that time and what all they had to face, then you would definitely know that it was undoubtedly one of the darkest times in the history of India. Even after 75 years, people are unable to overcome the pain and suffering that time carved on the minds and souls of people. But it was all because of the struggle of our freedom fighters that we are able to breathe in the open air at least not.
And lives of all the people involved in that struggle are full of inspiration and we need to learn a lot of things from it. Mahatma Gandhi is one such person who has a lot of things to teach this young generation. And the thing that sets him apart is his different approach from all the other people and how he gave a message of non-violence to all the people. This article will tell you everything about his life, ideologies, and important movements started by him.
Share with your friends