A Ferris wheel is an amusement park ride containing a rotating upright wheel. It can carry multiple passengers in carrying compartments also known as cabins, pods or capsules. Furthermore, the pods are attached to the rim of the wheel in such a way that as it turns, the pods remain upright. Below, we will look at the World's tallest Ferris Wheels. Read on to find out more!
Origination of Ferris Wheel?
The first Ferris wheel was developed and built by George Washington Gale Ferris Jr. as a central attraction for the World's Columbian Exposition in 1893. Therefore, even though such wheels were developed centuries before Ferris', we still use the generic term 'Ferris wheel'. The Ferris wheel has become the most common type of ride at fairs and amusement parks all over the world.
History of the Ferris Wheel
Early History
A contraption is known as 'Pleasure wheels' originated in 17th century Bulgaria. Patients rode in chairs suspended from big wooden rings that were rotated by strong men. Then, Pietro Della Valle, a Roman traveller visited a Ramadan festival in Constantinople, in 1615. He described the atmosphere, festival fireworks as well a Great wheel that he rode. Similar wheels were also built in England and other places around the world, including Romania, India and Siberia.
A Frenchman named Antonio Manguino bought the idea of a pleasure wheel to America in 1848. He then went on to build a wooden pleasure wheel to attract visitors.
Somers' Wheel
William Somers' Wheel, invented in 1892, was the immediate precursor to the original Ferris Wheel. Then, in 1892, Somers installed three fifty-foot wooden wheels at Atlantic City and Asbury Park, New Jersey, as well as Coney Island, New York. Following thing, he was granted the first U.S. patent for a "Roundabout".
A fun fact: George Washington Gale Ferris Jr. rode on Somers' wheel in Atlantic City before designing his wheel for the World's Columbian Exposition. In fact, Somers even filed a lawsuit against George Ferris for patent infringement. However, as the technology of the Ferris Wheel was significantly different from Somers' wheel, the case was dismissed.
The Original Ferris wheel
In 1890, Daniel Burnham was tasked with turning a square mile of Chicago into a dazzling showpiece. He assembled an all-star team of designers to make magnificent structures that would attract the attention of all the people. However, as the plans for the fair began to take shape, an empty spot for its central attraction remained. To fill up the space, the architects involved decided to come up with "something novel, bold and unique." This thought proved to be lucky for George Washington Gale Ferris Jr.
George Ferris Jr. was a 33-year-old engineer from Pittsburgh whose company was tasked with inspecting the steel used by the fair. During one of his routine inspections, he was struck with the idea of a Ferris wheel and he quickly sketched the design for a huge revolving steel wheel. After adding in specifications, he shared the idea with Burnham, who ridiculed the idea as it was not possible for such slender rods to carry people to a height taller than the Statue of Liberty.
Ferris, then more determined, spent $25,000 of his own money on safety studies. He also hired more engineers and recruited investors. Eventually, the 80.4-meter high wheen came into being. It contained 100,000 parts notably an 89,320-pound axle.
After its launch on June 21, 1893, over 1.4 million people paid 50 cents for a 20-minute ride and view an aerial panorama of Chicago city. Intending to contend against the 324-metre tall Eiffel Tower, the Ferris Wheel was a huge success.
About the Original Ferris wheel
There were 36 cabins, each fitted with 40 chairs which could accommodate up to 60 people. Thus, the total capacity was 2,160 people. Furthermore, the wheel took 20 minutes to complete two revolutions. The first involved six stops so that passengers can enter and exit the cabins and the second, a nine-minute rotation. Ticket holders paid 50 cents to enjoy this ride.
The fair ended in October of 1893. The wheel was shut down in April of 1894. It was dismantled and stored for use in the following year. Then it was rebuilt on Chicago's North Side, near Lincoln Park. It operated here from October 1895 to 1903. Then, it was again dismantled and transported to St. Louis for the 1904 World's Fair. The Ferris wheel was finally destroyed using dynamite on May 11, 1906.
Variations of the Ferris Wheel
Motorised Capsules
Motorised capsules are wheels with passenger cars mounted external to the rim. The passenger cars are independently spun by electric motors contrary to Ferris Wheels, where the cabins suspended are kept upright due to gravity. They are also called 'Observation wheels'.
There are only four Ferris wheels with motorised capsules in the world.
The first one is the High Roller, which is the world tallest Ferris wheel since March 2014. It stands at an astounding 167.6 cm. Furthermore, it contains externally mounted motorised capsules of a transparent spherical design.
The next one is the Singapore Flyer which has cylindrical externally mounted motorised capsules. It is 165 m or 541 ft high.
London eye is another motorised capsule Ferris wheel. It is 135 m or 443 ft and has ovoidal externally mounted capsules. It is the "world's highest cantilevered observation wheel".
Lastly, is the 120 m high Melbourne Star in Australia which also has ovoidal externally mounted capsules. It is the only observation wheel in the southern hemisphere"
Centreless wheels
A centreless wheel design does not contain a central hub. Furthermore, the rim of the wheel remains fixed in place. Instead, each capsule travels around the circumference of the rim.
The first centreless wheel built was the Big O at Tokyo Dome City in Japan. It is 60-metre high. In 2017, the 145 meters or 475.7 ft high Bailang River Bridge Ferris Wheel opened on the upper tier of the Bailang River Bridge in Shandong Province, China. Furthermore, the first centreless wheel in North America opened at the indoor Méga Parc in Quebec City, Canada, in January 2019.
Transportable wheels
As the name suggests, transportable Ferris wheels are designed to be operated at multiple locations. There are two ways to make a transportable Ferris wheel. Firstly, small transportable designs are permanently mounted on trailers and can be moved intact. Larger ones are designed to be repeatedly dismantled and rebuilt in a new place. Some even use a water ballast instead of permanent foundations. The world's tallest transportable wheel is the Bussink Design which is 78 metres or 256 ft high.
Double and triple wheels
A double Ferris wheel is designed to have a horizontal turntable. This idea was first patented in 1939 by John F. Courtney. Courtney's design consisted of two independent Ferris wheels, each revolving at either end of a cantilever arm. The arm was supported in the middle by a tall vertical structure. Furthermore, the arm itself rotated around its middle pivot point. This design is similar to the earlier Aeriocycle. The difference between the two is that Courtney's design allowed the cantilever arm to make a 360-degree rotation, while the Aeriocycle was limited to a seesaw motion. Courtney then went on to file more patents on the improved designs that made the Ferris Wheel more portable.
At about the same time, the Velare brothers patented the "Space Wheel", a side-by-side double wheel with four Ferris wheels in total. The design was sold to the Allan Herschell Company in 1959, who then marketed it as the "Sky Wheel".
The Tallest Ferris Wheels in the World
Ain Dubai or Dubai Eye
Height- 820 ft. or 250 m
Dubai already has the world's tallest building, the Burj Khalifa at 828 m. Now, it also boasts the world's tallest observation wheel. The Dubai eye opened in October 2021 to mark the Expo 2020 world's fair that was postponed due to the COVID-19 pandemic. The wheel is located atop a man-made island. It contains 48 cabins that can hold a total of 1,750 passengers. One complete revolution takes 38 minutes.
High Roller
This attraction at the LINQ Hotel and Casino along the High Roller opened in 2014. Each cabin on the wheel holds up to 40 passengers. Furthermore, drinks are sold at the base and can be brought along for the ride. The wheel also offers a happy hour each day with cabins that feature bars and a bartender.
Singapore Flyer
This observation wheel opened in 2008 along Marina Bay in Singapore. It proved an ariel view of the city as well as of the nearby islands, Indonesia and Malaysia. furthermore, the wheel has 28 ​capsules, each about the size of a mini-bus and can hold 28 riders.
Star of Nanchang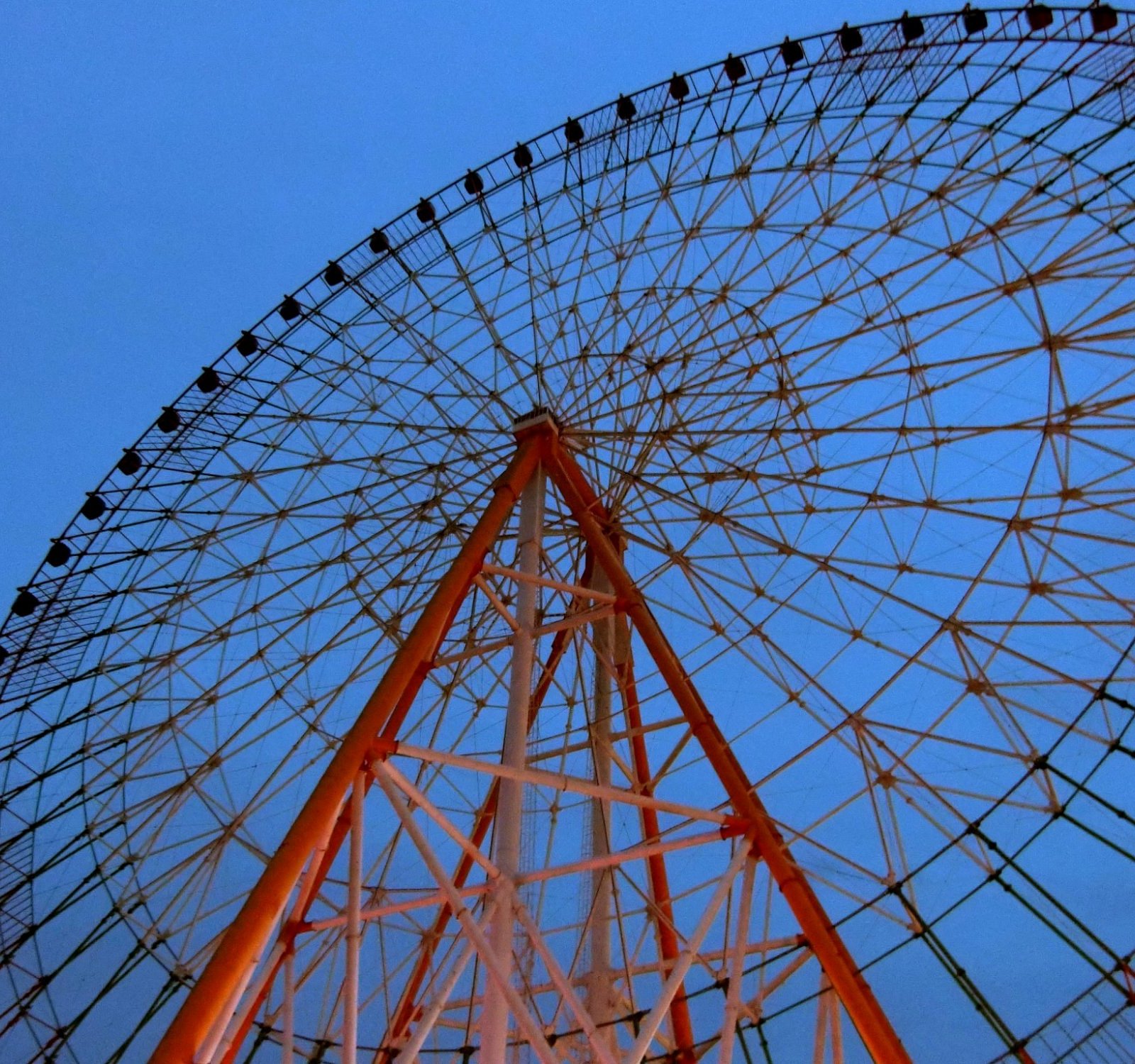 Located at the Nanchang Star Amusement Park in China, the wheel contains sixty climate-controlled capsules that can hold up to eight people. Since its opening in 2006, the wheel has put on a number of amazing light shows at night.
London Eye
Originally known as the Millenium Wheel, the London eye opened in 2000 along the River Thames in London. It contains 32 capsules and can carry 25 passengers. A single complete rotation lasts about 30 minutes.  
Bay Glory
Height- 420 ft. or 128 m
Located in Qianhai Bay, China, The Ferris Wheel opened in 2021. It contains 28 cabins, each of which can hold 25 passengers.
Sky Dream
The Sky Dream opened at the Lihpao Land theme park, Taichung in Taiwan, in 2017. It can hold a total of 60 passenger cars as each capsule on the ride can accommodate up to 8 people. Furthermore, a single revolution takes 25 minutes.
Redhorse Osaka Wheel
The Redhorse Osaka Wheel made its debut in 2016. It is located at Expocity in Osaka, Japan, on the site of Expo '70, the first world's fair held in Asia. The ride contains 72 passenger cabins with transparent, glass floors.
The Wheel at Icon Park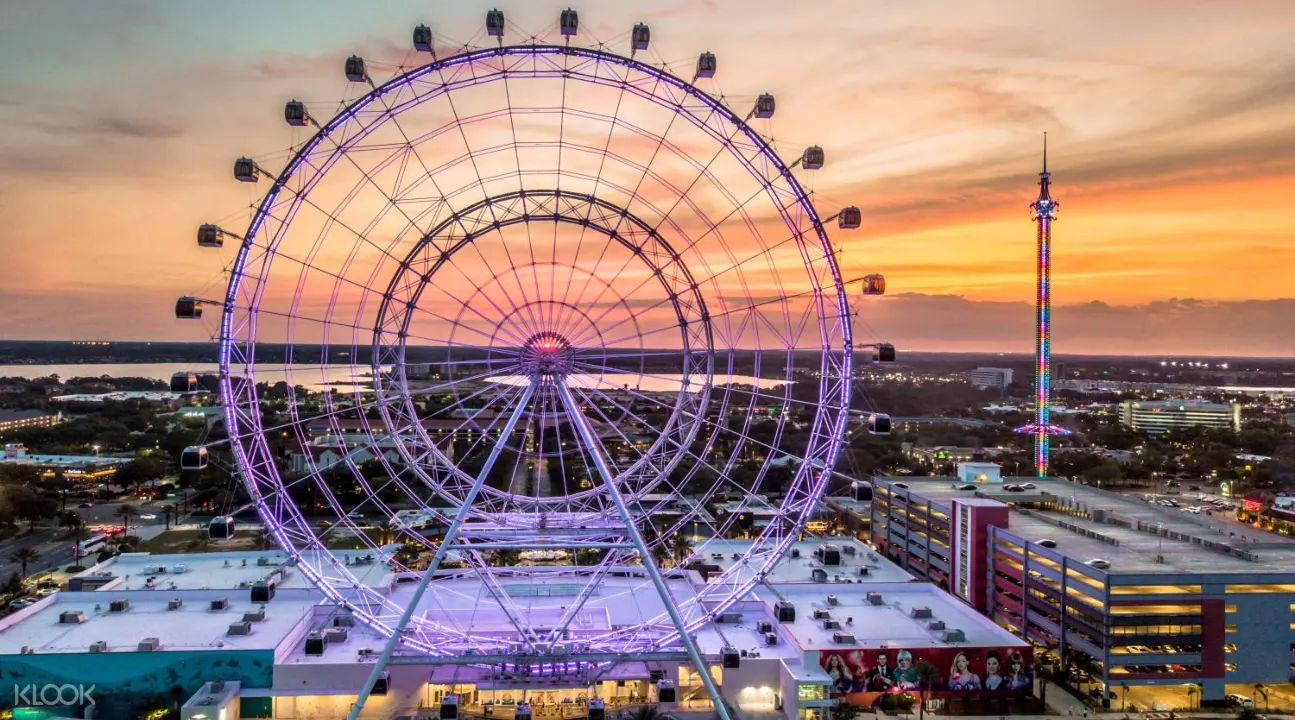 The Wheel at Icon Park also called the Orlando Eye, provides spectacular views of the theme parks surrounding it, namely, Universal Orlando and SeaWorld Orlando. It opened in 2015 and is one of the ​tallest rides in Florida. The Wheel is surrounded by other cool rides and attractions along the city's International Drive.
Melbourne Star and 6 Others
Height- 394 ft. or 120 m
There are a total of 7 wheels that are 120 meters high. They are,
The Zhengzhou Ferris Wheel at Century Amusement Park in Henan, China. It opened in 2003. The ride can hold 8 passengers in each of its 48 cabins. The ride takes 30 minutes for each revolution.
The Changsha Ferris Wheel in China opened in 2004. It can hold 384 people on each ride. Furthermore, each ride comprising one complete revolution takes 30 minutes.
Tianjin Eye at Yongle Bridge in Tianjin, China, opened in 2008. Similar to the other two on the list, the Tianjin Eye contains 48 cabins each with a capacity of 8 passengers. Furthermore, the ride takes 30 minutes to complete.
The Melbourne Star in Docklands, Melbourne, Australia, also opened in 2008. The observation wheel contains 21 cabins and is capable of containing 20 people. Thus, resulting in a seating capacity of 420 passengers. The ride takes 30 minutes to complete a single revolution.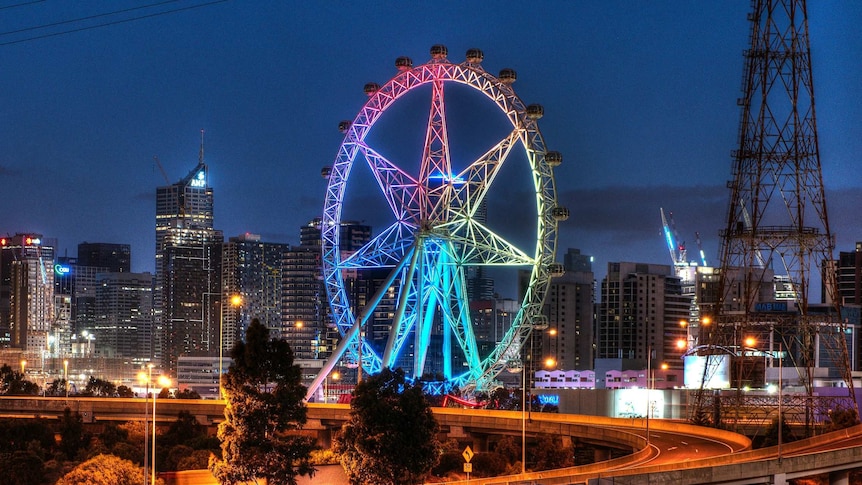 Suzhou Ferris Wheel opened in 2009 in Suzhou in China. It contains 60 cabins, each with a capacity of 5 passengers. Thus, the total seating capacity of the ride is 300 passengers. Furthermore, the ride takes 20 minutes.
Vinpearl Sky Wheel in Nha Trang, Vietnam. It opened in 2017.
The Sky Dream Fukuoka opened in 2002 at Evergreen Marina in Fukuoka, Kyūshū, Japan. Each ride took 20 minutes and consisted of a single revolution.
Conclusion
Since its first debut, the Ferris Wheel has made millions of people happy. Considered a marvel of engineering, the Ferris wheel still continues to be a crowd favourite with the tallest one reaching an astounding 820 feet. It has undergone several changes and variations over the years and will continue to do so as technology advances. So, here is a summary of the tallest Ferris Wheels in the world, while we wait for a new one to break the record.
Top 10 tallest Ferris Wheels in the world
| | | | |
| --- | --- | --- | --- |
| Ferris Wheel | Place | Height | Features |
| Ain Dubai or Dubai Eye | Dubai | 820 Feet | 48 cabins, can hold a total of 1,750 passengers |
| High Roller | Los Angeles | 550 feet | Each cabin on the wheel holds up to 40 passengers, drinks are sold at the base |
| Singapore Flyer | Singapore | 541 feet | The wheel has 28 ​capsules and can hold 28 riders each |
| Star of Nanchang | China | 525 feet | Has amazing light shows in the nighttime |
| London Eye | London, Uk | 443 feet | Contains 32 capsules and can carry 25 passengers |
| Bay Glory | Qianhai Bay, China | 420 feet | Contains 28 cabins, each of which can hold 25 passengers |
| Sky Dream | Taichung, Taiwan | 413 feet | Has 60 passenger cars which can accommodate up to 8 people each |
| Redhorse Osaka Wheel | Osaka, Japan | 404 feet | Contains 72 passenger cabins with transparent, glass floors |
| The Wheel at Icon Park | Florida, USA | 400 feet | Provides a spectacular view of the surrounding theme parks |
| | | | |
FAQs
What is the Ferris wheel called in India?
In Hindi, a Ferries Wheel is called a 'bada ooncha jhoola'.
Does India have a Ferris Wheel?
India is home to the Delhi eye, a Ferris wheel, adjacent to Kalindi Kunj in Okhla. Modelled after the observation wheels in Singapore and London, the Delhi eye is a 200 ft high structure that offers a bird's eye view of Delhi, highlighting locations like Akshardham and Humayun's Tomb as well as the Lotus Temple. On a clear day, you can also catch a glimpse of Connaught Place.
The ride contains 36 air-conditioned cabins and each one can contain up to 6 people. Due to its strategic location, the ride hopes to attract more people to a lesser-visited side of town.
Although it faced considerable controversy after its construction, the Delhi eye is finally opened to the public who can view Delhi in a new light.
Has anyone died on a Ferris wheel?
Ferris wheels are quite safe in comparison to other carnival rides. They are slow, laid back and contain no sudden drops, spinning, high speeds or crashing. However, despite this, the height and lack of restraint, pose a major concern and has led to accidents in the past.
In 2007, a family of five fell 65 feet to their deaths from a Ferris wheel at an amusement park. Two members of the family clung to the handholds of the cabin and survived with no injuries. Jeon Un-sung, 70, one of the people rescued from the cabin in Busan, said that the slowly moving gondola suddenly tipped upside down and the family members fell out of it when the window behind the seats broke. A 68-year-old woman, a 7-year-old boy and two others were killed at the scene. A 28-year-old woman taken to a hospital for treatment died soon after.
What is another name for the Ferris wheel?
A Farris wheel is also known as a big wheel in the United Kingdom. Additionally, people also call it the giant wheel or observation wheels.
How many seats does a Ferris wheel have?
The number of seats depends on one Ferris wheel to another. However, a typical transportable Ferris wheel, used in carnivals and county fairs can carry up to 48 riders in 16 seats.
What makes Ferris wheels spin?
Ferris wheels are large structures that rotate around a central axis. Electronic gears and motors ship the wheel upwards, while gravity pulls it back down again. This repeated movement persists for the entire duration of the ride.
What are eccentric wheels?
An eccentric wheel is another variation of the Ferris Wheel. It differs from a conventional Ferris wheel as its passenger cabins are not fixed onto the rim of the wheel. Instead, they slide on rails between the hub and the rim as the wheel rotates.
The two most well-known eccentric wheels are
The Wonder Wheel was built in 1920 and can carry 144 people. It is 45.7 metres or 150 ft tall.
Pixar Pal-A-Round is slightly larger and stands at 48.8 metres or 160 ft high. It has 24 fully enclosed passenger cars and can carry six passengers each. Furthermore, each passenger car is decorated with the face of a Pixar character. Sixteen cabins slide inward and outward as the wheel rotates, while the remaining ones are fixed to the rim. There are separate lines for sliding and fixed cars so that passengers can choose between the two.
Why was the first Ferris wheel important?
The first Gerris Wheel in Chicago, USA marked the day the United States built something original and unique to rival the Eiffel Tower in Paris. To make it more memorable, the wheel was lit up by 3000 of Thomas Edison's new light bulbs. The ride was a huge success and was considered to be a marvel of engineering.
To read more articles, Click on the link…
Share with your friends