Fantasy involves the imagination and suspension of reality- a feat for which children have a natural ability. No matter how old you are, it's never too early to start reading fantasy – especially with so many incredible works out there! Fantasy books are one of the best ways to engage kids and excite them about stories, an element of magic is what sets fantasy books apart from the rest. And we can't go wrong with something that involves children and magic. It's what keeps their innocent hearts elated. Which is why we have found the need to list down Six Books in the Fantasy Genre for Children
Fantasy books for kids can help them create favorable reading practices which they can take with them throughout their life. And of course, bolstered by a kid's imagination, these stories can truly come to life, which arguably makes children the ideal audience for the genre.
We at Podium School have created a list of some good fantasy books for kids, so go ahead and pick these off the shelves when you get the chance.
Best Fantasy Genre Picks for Dreamers
Harry Potter & the Philosopher's stone
Author: J. K. Rowling
In terms of children's fantasy, you can't do much better than "the Boy Who Lived". You can join Harry in Philosopher's stone, the first book in the seven-part epic, following the quest of Harry to discover his identity as a wizard, begins attending Hogwarts, and grapples with the forces of ultimate evil, all at the tender age of eleven.
Harry grows up in a not-so-loving household in Privet Drive with his aunt and uncle after the death of his parents. Harry does not live a comfortable life and has not been from the time he was a baby. His Aunt and Uncle have given him a room which is a cupboard under the stairs. Harry's life changes when Hagrid, a giant from Hogwarts rescues him and tells him he is one of the most important wizards in the magic world. Everything about the book is as magical as it can get. The names, the creatures, the place, the brooms the quidditch players fly on. The book is like a fantasy art that has come to life. This is a must-read and a top recommendation from the blog Six Books in the Fantasy Genre for Children.
The Hobbit
Author: J. R. R. Tolkien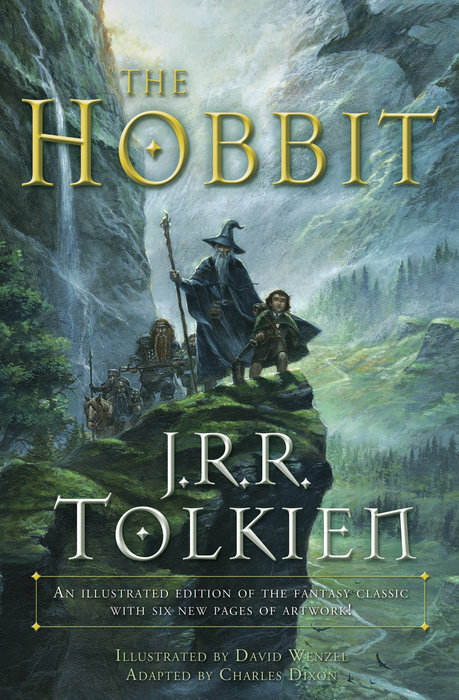 If boy wizards aren't quite your thing, you can always try middle-aged hobbits. In this book, Bilbo Baggins and his dwarven compatriots' journey "there and back again" in The Hobbit, by bravely soldiering forward in the face of mortal peril. All of it in hopes of restoring the dwarves' lost kingdom, which was long ago taken by the dragon Smaug. Who by the way happens to have a very intimidating voice, I imagine. The beautifully crafted story is sure to liven any night for children and have them dreaming about being heroes.
The Hobbits, the Dwarves, the Elves are a few of the wonderful creatures you would be meeting within this wonderful tale, that is The Hobbit. There are also four wizards in this wonderful tale, namely Saruman the White, Gandalf the Grey, Radagast the Brown and Alatar, and Pallando, the Blue Wizards. Among them, the guarantee of Podium School is you would love Radagast the Brown the most. He's fun, quirky, and has an infinite amount of excitement in him to last anyone a lifetime.
The Spiderwick Chronicles
Authors: Holly Black, Tony DiTerlizzi
The Spiderwick Chronicles is a series of fantasy and children's literature books. Two Authors have written this book, and have put all their imagination into making this book a great read for every kid out there. This series has a total of 5 novels, published in the year 2000 and 2004.
The book is set in Maine, USA. 9-year-old twins Jared and Simon and their 13-year-old sister Mallory move with their mother to a decaying Victorian house after their father leaves them. On their first night, they discover a secret library, and later discover more house secrets and passages. The past owner of the house was Arthur Spiderwick and that's how the book got its name. Mr. Spiderwick through years of research discovers a fantastical world that isn't visible to the human eye. In this world that he discovers there are various life forms, some are delicate fairies, others are comical critters, but most are quite frightening.
A Series of Unfortunate Events
Authors: Daniel Handler(Lemony Snicket), Brett Helquist
This adventure, or what some refer to as a dark comedy, is the first book in "A Series of Unfortunate Events". Which are ideally for kids ages 10 and up. A Series of Unfortunate Events in two words is exceptionally spooky. This series was published between 1999 and 2006. A 13-book collection of unhappy morality tales for children.
The book follows the turbulent lives of Violet, Klaus, and Sunny Baudelaire, who lose their parents in a fire, and are then placed in the custody of a murderous relative, Count Olaf who attempts to steal their inheritance. And orchestrates numerous disasters with the help of his accomplices as the children attempt to flee from his clutch. As the plot deepens, the Baudelaires gradually confront further mysteries surrounding their family, and deep conspiracies involving a secret society known as V.F.D., with connections to Olaf, their parents, and many other relatives.
Charlie and the Chocolate factory
Author: Roald Dahl
Charlie and the Chocolate Factory is for readers of ages 7-10. This book is a classic children's book about five kids who win a chance to tour Willy Wonka's mysterious candy-making operation. It's a vividly told wild ride with amusing, cartoon-like sketches that will keep kids excited and laughing.
The kids however mentioned in the book are not at all well behaved, are entitled, and rude. Various forms of bad behavior are demonstrated and are punished in ways that perfectly fit the crimes. Charlie lives a life of poverty that's portrayed as bleak and depressing, although the love between him and his family makes their day-to-day struggles more bearable. It's understood from the book that Willy Wonka was looking for someone who had a similar love for chocolate as he did and was grounded. The book basically teaches us that children who are honest and well-behaved will be rewarded.
The Lion, the Witch and The Wardrobe
Author: C. S. Lewis
Last but certainly not the list we have The Lion, The Witch, and the wardrobe by C. S. Lewis in our Six Books in the Fantasy Genre for Children. This book is an absolute legend of Fantasy. It introduces readers to Narnia, a glorious world under siege by the wicked White Witch. The four famous Pevensie children, Peter, Edmund, Susan, and Lucy we are introduced to the world through this book. They unearth Narnia in the back of a wardrobe and must help the victims of the witch's reign of terror. Luckily, they have help in the form of Aslan: a majestic lion, and Narnia's true ruler.
The characters and the places described are magical at the least. Mr. Tumnus, a half-human-half Faun creature is someone you can't help but fall in love with. This book is a delight for children and adults alike.
Once you're done with this blog of Six Books in the Fantasy Genre for Children, you can have a go at 8 Funny Books That Will Make Your Child Laugh Out Loud!
Share with your friends