Acting is certainly a very tough but entertaining career one can opt for. Few actors leave an impression of their skill for a lifetime in the hearts of their audience and they become greatest actors forever.
Alan Rickman has rightly said, "Actors are agents of change. A film, a piece of theatre, a piece of music, or a book can make a difference. It can change the world".
Today, in this blog we will try to cherish the presence and superiority of those great actors. We have tried to mention below a list of a few of the greatest actors of all time who won many hearts.
Leonardo DiCaprio
Leonardo DiCaprio is an American actor born in November 11, 1974. He is one of the most popular actors of all time. Leonardo DiCaprio is famous for his edgy and unique roles.
'Titanic', 'Inception', 'Shutter Island', 'The Revenant' and 'The Wolf of wall street' are some of his most popular movies.
He once said that –' If you can do what you do best and be happy, you're further along in life than most people'.
His movie 'Titanic' is one of the most well-known movies at a time which gave him international stardom.
Leonardo's award list is quite long which includes the the British academy film award, Dorian award, Hollywood film award, MTV movie award, and many more.
Leonardo's famous TV shows includes Parenthood, The Outsiders, Growing pains, and The Greensburg.

Charlie Chaplin
We know Charlie Chaplin as one of the most important figures in the history of the film industry.
He is a great comedian, filmmaker, actor, composer as well as has a gorgeous personality.
Charlie Chaplin once said that 'I have many problems in my life but my lips don't know that. They always smile'. And this perfectly reflects his own life.
He is a great personality who never failed to make others happy while struggling with himself.
During the childhood of Charlie Chaplin, his father was absent and mother was in mental hospital.
In his childhood, he once mentioned 'I was hardly aware of a crisis because we lived in a continual crisis; and, being a boy, I dismissed our troubles with gracious forgetfulness.
Great works of Charlie Chaplin include 'The kid', 'The immigrants', 'The circus', 'A woman of Paris', 'City lights', 'The gold rush', 'The great dictator', 'Modern times', etc. Out of the 8 mentioned above, 6 have their name preserved in the National Film Registry by the United States Library of Congress.
Robert de Niro
Robert de Niro, one of the greatest actors of all time began acting at the age of 10 when he made his stage debut in school. He played the role of the cowardly lion in ' The Wizard of Oz'.
At the age of 16, he found acting as a way to rid of his shyness. So, soon he left his high school to follow the path of acting.
Once he mentioned that –'When I was around 18, I was looking at a TV show and I said, 'If these actors are making a living at it, and they're not that good, I can't do any worse than them'.
Since then he started studying acting. Robert de Niro, widely known, has made nine collaborations with filmmaker Martin Scorsese.
Robert de Niro was honored with the Oscar two times while he was nominated 8 times for the Oscar.
He was also nominated 10 times for Golden Globe Awards and earned the prize two times.
There is a famous line which is quoted by Robert de Niro- ' If you don't go, you'll never know'.
Jackie Chan
Chan Kong san, further known as Jackie Chan is a Hong Kong-born Chinese performer, director, and stuntman.
Jackie Chan with his shaky acrobatic stunts and fascinating physical humor helped to give rise to Kung Fu movies into the mainstream of American cinema.
He is one of the most popular and legendary actors of all time. Jackie Chan's first movie which inaugurated the comedic Kung Fu genre was ' Snake in the Eagle's shadow'.
After that, his film 'Drunken master' finally shoved his way to huge success. At Shanghai International Film Festival, there is an award since 2015 which is named after Jackie Chan, ' Jackie Chan action movies award'.
His other movies which gifted him tremendous success was, 'Kung Fu Yoga', 'The Karate Kid', 'Kung Fu Panda', 'Kung Fu Panda 2', 'Kung Fu Panda 3', 'Rush Hour' and many more.
Jackie Chan once quoted that –' Life will knock us down, but we can choose whether or not to stand up back'.
Aamir Khan
Muhammad Aamir Hussain Khan is born in 1965 and is the most famous Indian actor, Singer, director, and filmmaker.
Aamir khan has a large multinational following, especially from China and India. He was also described as the Biggest movie star in the world by Newsweek.
His terrific list of honors includes the Padma Shree(2003), the Padma Bhushan(2010), the Best Actor award three times, and the best director award.
He has done impressive work in his movies, 'Dangal', 'Taare Zameen par', 'Lagaan', and '3 Idiots'.
For the movie 'Dangal' he received Best Asian film Award. He also won an honorary title from the government of China, in 2017.
There is a famous quote from Aamir khan, 'I don't believe in strategies, I love what I'm doing and that's the main thing'.
Humphrey Bogart
Humphrey Bogart, in 1999, was designated as the greatest male actor of the Classic American Cinema. , full name Humphrey DeForest Bogart was born on the day of Christmas 1899, in New York.
Bogart entered the Film Industry in 1930 and he spent almost 30 years here. In B-films Bogart played supporting and sometimes main roles which mostly were related to gangster-type roles. The best movies of this era include Black Legion, Marked Woman, They Drive Night, and dead end.
Some of his best legendary movies include To have or have not(1944), Casablanca(1942), The big sleep(1946), We're no angels(1955), In a lonely place (1950), The Maltese Falcon(1941) The Caine Mutiny(1954), etc.
Once in 1921, He acted as a Japanese waiter, in a Broadway stage debut where he only had a single line in the whole play.
'Things are never so bad they can't be made worse'-Humphrey Bogart. Unfortunately, on 14 January 1957, Bogart died due to Esophageal cancer.
Tom Hanks
Tom Hanks, full name Thomas Jeffrey Hanks was born on July 9, 1956, in California, U, S.
Hanks are one of the most recognizable stars in the world. He is best known for his dramatic and comedic role. Tom Hanks is also the fourth highest-grossing actor in North America.
Hanks started acting in school plays like the South pacific in his high school in California. Tom hanks dropped out of college for his acting career. That is why he is named as one of 'the top 10 college dropouts' by Time magazine in 2010.
His first movie is the horror film 'He knows you're alone(1980)'. His major works include 'Cast away(2000)', The green mile(1999), The terminal(2004), The polar express(2004), sleepless in Seattle(1993), Apollo 13(1995). There are many more other movies of Tom hanks which are adored by people all over the world. He has worked in more than 80 movies.
Tom hanks won 2 Academy Awards and were nominated 6 times for this. He also achieved 7 Emmy Awards while he was nominated 13 times.
"There isn't any great mystery about me. What I do is glamorous and has an awful lot of white-hot attention placed on it. But the actual work requires the same discipline and passion as any job you love doing, be it as a very good pipe fitter or a highly creative artist."- Tom hanks
Gregory Peck
Eldred Gregory Peck was an American actor born on 5 April 1916 in California, USA. He was one of the most famous film stars from the 1940s to the 1960s.
His first film in Hollywood was 'Days of Glory(1944)' where he played a role of a Russian Guerilla fighter. Peck's popular works include To kill a Mockingbird (1962), Roman Holiday(1953), The omen (1976), Cape fear (1962), Moby dick(1956), On the beach (1959), The Guns of Navarone( 1961), etc.
Peck's most famous role was of 'Moby dick' from the movie 'Moby dick(1956)'. For his role of Atticus Finch in 'To kill a Mockingbird(1962)', he was awarded the Academy Award for Best Actor.
Gregory Peck earned two Golden Globe Awards for best actor and one Golden Globe Awards for the best-supporting actor as well. He was ranked 12th among the 25 greatest male stars of classic Hollywood cinema by the American film institute.
I just do things I really enjoy. I enjoy acting. When I'm driving to the studio, I sing in the car. I love my work and my wife and my kids and my friends. And I think, "You're a lucky man, Gregory Peck, a damn lucky man." – Gregory peck. Unfortunately, he died on 12 June 2003 in Los Angeles, California, USA while sleeping.
Irrfan Khan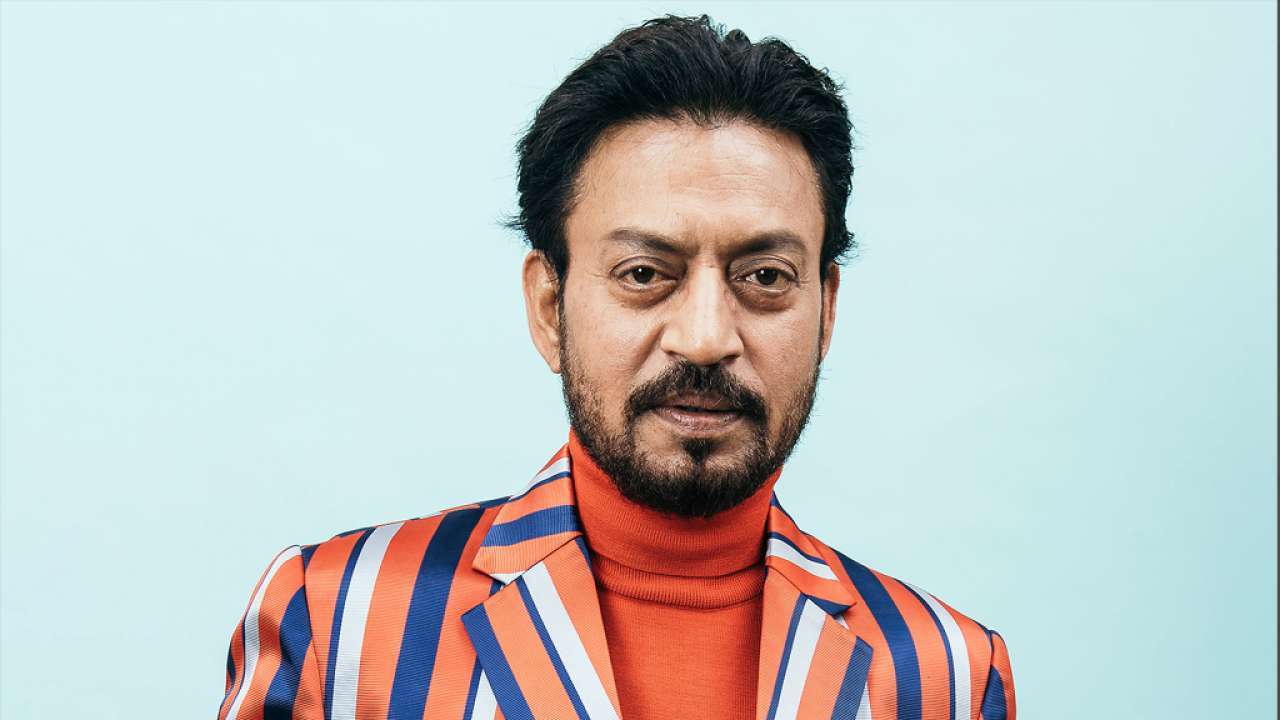 Irrfan Khan was an Indian actor who also worked in British and American movies. Khan was born on 7th January, 1967. He was considered one of the finest actors in Indian cinema. There is a saying that when the struggle is the part of our story. The early life of Irrfan Khan in the Indian cinema was not easy.
After graduating from the National School of Drama in New Delhi, he made his first debut. Irrfan khan played a minor actor role in the movie 'Salaam Bombay'. After that, he worked in a lot of TV serials like Chanakya, Chandrakanta, Banegi Apni Baraat, etc.
He, then worked in some movies which were left unnoted for a long time. In 2005, his first movie in which he got a lead role was, Rog. For his role as a villain in the film, Haasil, he won the Film fare best villain Award.
Then there his career started and he worked in a lot of movies which gave him fame and success. His Bollywood movie 'Hindi medium' was a great success and it became his highest-grossing Hindi release. It was a big hit in India and China.
In Hollywood cinema he worked in JurJurassic Park, Life of Pi, Inferno, etc. He was also considered as one of India's biggest export to Hollywood.
His other hit works include Piku(2015), The lunch box(2013), The Namesake(2006), Madaari(2016), Jazbaa(2015), Slumdog Millionaire(2015), etc.
'The sign of a good society is where talent is respected'- Irrfan Khan. Unfortunately, he died on 29 April 2020.
Samuel L. Jackson
Samuel Leroy Jackson was one of the most widely acknowledged actors of his generation. Jackson was born on December 21, 1948, in Washington, DC.
Jurassic Park, The Avengers, Jackie Brown, Unbreakable, Do the right Thing, Snakes on a plane, Iron Man 2, The Hateful Eight are some of the best movies of Samuel L. Jackson.
Jackson once mentioned that he loves watching his movies in the theaters. He also wanted to watch the plays in which he performed during his theater years.
For his role in the movie 'pulp fiction', he was nominated for the best supporting actor award. He was also honored with Honorary Academy Award. He was the recipient of Best film Actor in Supporting role for the film 'Pulp Fiction'. For his voice acting in the Film 'The Incredibles', he received Outstanding voice acting in a feature production award.
Films in which he participated have altogether grossed over twenty-seven dollars worldwide. This made him the highest-grossing actor of all time.
"The best advice that was given to me was that I had to be 10 times smarter, braver, and more polite to be equal. So I did."-Samuel Leroy Jackson.
Parting words
We sincerely hope that you liked the blog. You can also visit podium blog to read more such interesting chunks. We would certainly cherish to see you again.
Till then, a very happy reading to you!