With the trend of readymade printables- people believe that the charm of hand-painted Indian Folk Art forms is declining. However, there have been attempts to revive Indian art forms through comics, animations, and storyboards. Thus, the Children's Film Society, India has introduced an animation series 'Krish, Trish and Baltiboy'. It is proof of the fact that stories can be told through the canvas of traditional Indian Art forms. And they can be as appealing as CGI animation in international animation films. Watch the episodes here to see what we're talking about!
There are many reasons we swear by the potential Indian Art Forms have for storytelling. First, Indian Art forms always leave us impressed with their authenticity. Second, they are the rich preserves of long traditions, and can also become captivating comic panels. We can totally depend on them to make our stories magical! Third, we originally used these Indian Art Forms for storytelling and entertaining the audiences.
We believe that 'A picture is worth a thousand words. Therefore, we bring to you the Top 4 Traditional Indian Folk Art forms which make excellent storyboards and comic panels. Give your Creative Writing powers an edge with these traditional Indian art forms. Fasten your seatbelts because we are going on a mini-tour full of creative lessons on heritage.
Rajput Painting– The Royal Indian Art Form
Our first traditional art form comes from the lap of our very own Rangeelo Rajasthan. Beckoning us into the world of royal glory, Rajput paintings are a sight for sore eyes. This traditional Indian art form dates back to the 16th and 17th centuries. It accommodates different schools like-
Mewar
Bundi
Jodhpur
Malwa
Kota
Bikaner
Kishangarh
Themes and Features of Rajput Art
While Rajput artisans maintained their own individual flair- they also accommodated features from Mughal, Persian, Chinese and European art. The usual themes of Rajput paintings are scenes from the Ramayana, Mahabharata, local legends, animals, natural landscapes, portraits, etc. Hence, love seeped in poeticism is a frequent theme in Rajput paintings. Facial features are also important in these paintings. As you can see below, the human figures in Rajput paintings comprise of:-
serpentine curls of hair
elongated and graceful limbs
intricate jewelry
side profiles showcasing hooked noses
curved eyebrows and eyelids which look very similar to lotus petals
Usually, layered handmade sheets Waslis act as a canvas for Rajput Paintings. Minerals, plants, conch shells, and precious metals like gold and silver are the sources for the rich colors in these paintings. One can accommodate many progressions within a story itself in a single painting. Thus, if you aspire to give a regal flavor to your stories, nothing's better than illustrating them in the Rajput style.
Have a look at some traditional Rajput paintings right here!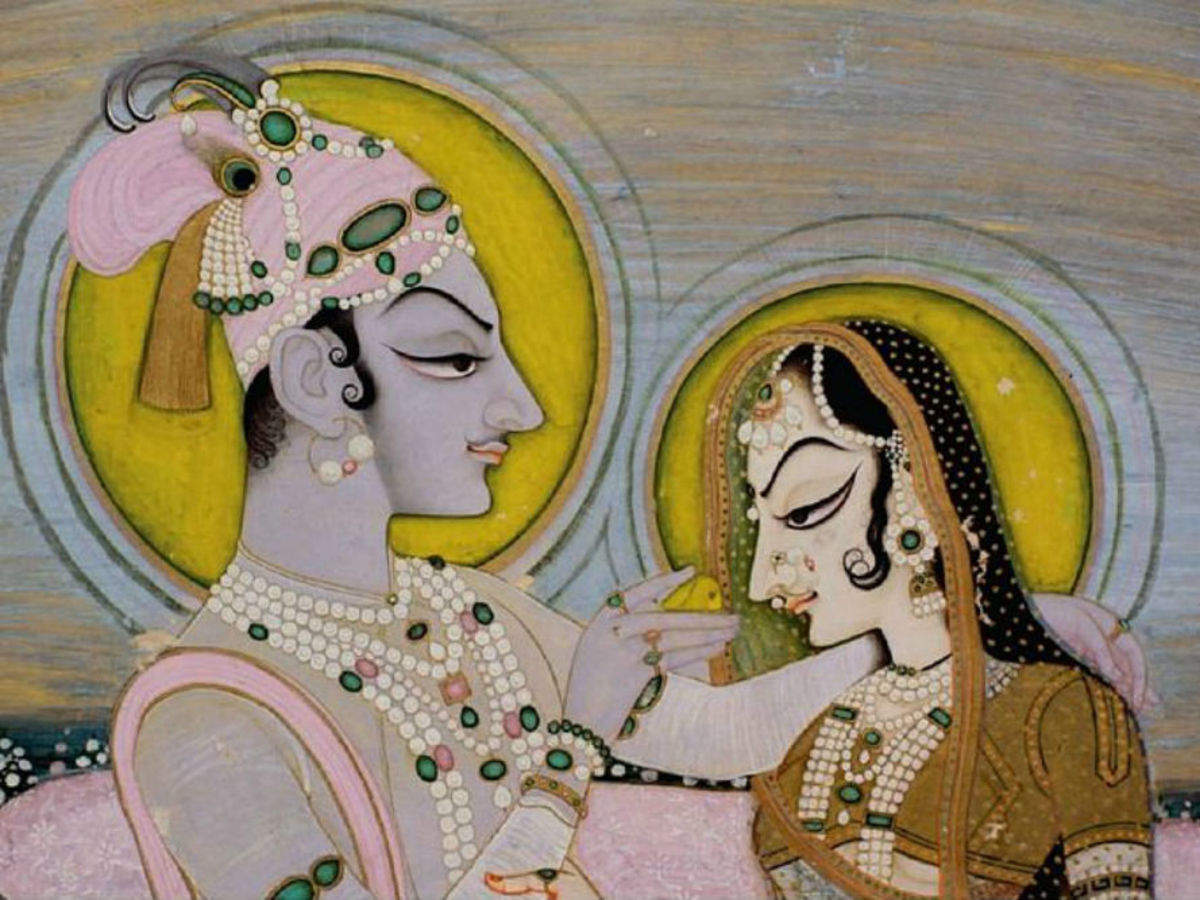 Madhubani Painting– Simplicity Personified
Any talk about Indian art is incomplete without mentioning the Madhubani Painting from Bihar. Literally meaning 'The Honeyed Forest', this sweet, simple, and rustic folk art makes for an impressionable storyboard.
Among the stories of its origin, many legends believe it has roots in the times of the Ramayana. King Janaka of Mithila had asked artists to paint the scene of his daughter Sita's wedding with Prince Rama. Hence, the Madhubani painting became a high trend of Indian Art Forms. Talk about the ancient cousin of the modern day photo album.
Themes and Features of Madhubani
Traditionally, Madhubani painting is done on plastered or mud walls. However, this Indian art form has made its way to paper, Tussar silk, and wood because of its enormous demand. Common themes in Madhubani are animals, plants, fishes, Gods and Goddesses, and common folk. Second, the appeal of Madhubani artwork comes from the double borders which are filled with small lines. Improvised tools like cotton wrapped around a bamboo twig become the painting tools in Madhubani.
According to the Dastkari Haat Samiti, Madhubani Art comes from a deep respect for nature. Therefore, the colors used in Madhubani art are made from flowers, berries, and leaves that fall naturally on the ground. Because of this commitment, the sources of these pigments are never plucked or gained. Madhubani also calls for some social consciousness. It is because the women of the Mithila region are regular practitioners of this art, but men have also joined the league.
In conclusion, whether painted as successive panels or singular scenes; Madhubani has the power to inspire every creator who has an admiration for nature and divinity.
Pattachitra- The Indian Art Form which is a Storyteller's Canvas
Moving a little to Eastern coasts, we come to the Pattachitra- literally meaning picture on a cloth panel. Originating from the lands of Bengal and Odisha, the Pattachitra is an age-old storyteller's favorite.
Made traditionally on a cloth scroll and palm leaves, the Pattachitra folk art shows panels from Hindu epics and folktales. The Pattachitra used to be a visual device that was accompanied by song and dance. Since it is a part of a tradition of storytelling, the Pattachitra is an excellent medium for making storyboards.
Themes and Features of the Pattachitra
Usually revolving around the themes from the Puranas, Ramayana and Mahabharata; the graceful curves and the sharp, elegant outlines of this Indian art form create a lasting impression on the observer. Moreover, Pattachitra has some other important features, which are:-
A mandatory floral border since a Pattachitra painting is incomplete without one.
Clean, sharp and bold lines because Pattachitra appreciates neatness and precision.
A reddish or brownish background, since it is coated with a mix of chalk and gum.
One finds no distant views like landscapes. This is because in Pattachitra, all the events are close-up views.
The careful and well defined postures of the figures who usually face the right and look slightly upwards
Using natural pigments which make Pattachitra an eco friendly art form
There is a plethora of tales that can be told via this traditional folk art from Odisha since folklore and scenes from daily life are mainstays of Pattachitra. Other than the preferred canvas of stretched cloth, we can draw the Pattachitra on cloth bags, palm leaves, paper and silk. Have a look at this beautiful panel below!
Kalamkari- Southern Artistry Through a Pen
Going towards the South-one can never miss Kalamkari from the list of Indian art forms. Presenting a canvas with intricate detailing and earthy tones, the Kalamkari belongs to the home turf of Andhra Pradesh. Comprising 23 meticulous steps, this traditional art speaks to the soul. Kalamkari is hand painted or printed with blocks. But this section covers the hand drawn Kalamkari variety- the Srikalahasti style.
Themes and Features of Kalamkari
Artists use a tamarind pen called the Kalam to make the outlines. Hence, the vivid natural colors come alive on a background of stretched cloth. A mix of alum, crushed flowers, seeds and jaggery yield the pigments in Kalamkari. Thus, colors like mustard, rust, earthy greens and rich blues are used in this art form. Usually, lotus motifs form the background in these paintings.
Originally, Kalamkari was a medium of storytelling. It was used to tell stories from the Mahabharata and Ramayana and natural motifs like leaves, branches, vines and florals. As it connects the earth with the heavens, we are sure that with Kalamkari- the sky is the limit for your stories. The ornamental style will always leave a lasting impression on your readers.
Where Art and Stories Meet- The Magic of Indian Folk Art!
Now, that we come towards the end after this journey in a nutshell; we leave you with some key takeaways which are:-
Give Yourself a Creative Release
Choose a story- folk, legendary or your own and incorporate these art forms in your comics! You will definitely leave your audiences awed with this innovative twist. Podium School invites you to this journey where the budding storyteller in you will find an outlet. Check out our curated Creative Writing Course here- which will help you with the basics of comics and storyboards. You will love to avail this opportunity!
Challenge Yourself as an Artist and Storyteller
Practicing Indian art forms as a medium to tell your stories will help you learn more about different cultures. There is an added advantage of versatility. It is because you will gain from learning a new skill. The challenges which come with adapting your story in a delightful medium will definitely give you a booster dose of creative thinking.
Reclaiming the Traditional
Not all traditions limit your thinking, because some provide you with ample space to make your own mark. We swear by 'Unity in Diversity'. Therefore, reclaiming these old traditions will increase your admiration and respect for different cultures.
By giving your stories a voice with these Indian art forms, you will end up with spellbound readers. So, it's time to claim your roots and yet touch the sky with your imagination. As the canvas is all yours- let your creative juices flow!