Indian art is among the oldest in the world. In fact, archaeologists have discovered paintings that were created over 70,000 years ago. Therefore, Indian paintings hold a special place in history and influence artists to this day.
Traditional art in India depicted cultural, religious as well as political developments through clever metaphors. These nuances are still used by Indian artists in the modern-day to create relevant and captivating art pieces. Hence, they will also inspire your little ones to create bright and colourful art that beautifully depicts their emotions as well as views of the world.
In this article, we have listed 15 Indian art forms that your child can admire and replicate. 
History of Indian Paintings
Indian paintings have a long and rich history in Indian art. They can be broadly classified as miniatures, murals, and paintings on cloth. Murals refer to large works of art created on solid structures. These were common in ancient and prehistoric India. On the other hand, paintings on cloth came about much later, when folk art began becoming popular.
Below, we will look at different Indian paintings through the various eras of the country.
Ancient Era Paintings
This era began over 70,000 years ago. The people of the Indus valley civilization, in the northwest of the country, created simplistic art on the walls of caves. These paintings depicted animals as well as the day-to-day activities of the people.
As time went by, people evolved and so did their understanding of the materials around them. Thus, they began creating more complex art forms with different colours obtained from nature. We can see these paintings in Hindu, Buddhist as well as Islamic places of worship.
By the 19th century, India was rapidly colonised by British rule. During this time, artists began creating "company paintings" for British clients. The paintings created had exaggerated Indian features, thus returning the pack to traditional Indian roots.
Independence era or Modern Indian Paintings
The modern Indian painting movement began in Culcutta. As the British left the country, the old traditions of paintings more or less died down. Famous painters like Raja Ravi Varma created artwork influence by western techniques like an easel and oil painting. Then, the Shantiniketan school led by Rabindranath Tagore succeeded in this work. It focused on idle rural life. However, as time progressed, schools of art like the Shantiniketan died down.
Types of Indian Paintings
Saura Paintings
Sura paintings, also known as ikons, practised by the Saura tribe of Odisha are a style of mural paintings that depict the religious beliefs as well as the everyday life of a village farmer. These paintings are dedicated to the diety Idital and contain elements like the sun, moon, animals as well as people.
Similar to Warli art, Saura paintings contain stick figure iconography. All paintings include a border with the human and animal figures drawn in the centre.
Painters paint white geometric motifs over red or yellow ocher backgrounds. The colours used are made from rice, coloured rocks, tamarind, white stone, vermilion, as well as flower and leaf extracts. Furthermore, Artists use brushes made of tender bamboo fibres to paint the designs.
Look at these Saura Paintings to know more!
How to create Saura paintings?
Nowadays, artists make Saura paintings on new mediums like paper, cloth, and canvas. Alternatively, you can also paint notebooks and phone cases with motifs from the Saura art form. Below is a tutorial you can watch to learn how to do so. You can opt to use natural dyes and pigments of acrylic and poster colours.
Bhil Art
Bhil art originates from various states including Gujarat, Madhya Pradesh, Rajasthan, and Maharashtra. The paintings depict the daily lives of the people of the Bhil community. In these paintings, the Bhils try to connect their art with their gods and goddesses as well as nature. Bhil art contains the sun, moon, deities, plants, and animals, all drawn from natural herbal colours on walls or paper. People used turmeric, oil, leaves, and vegetable extracts as well as flour to create the images. The artists use twigs or neem sticks to draw large, unlifelike shapes of everyday characters.
Bhil paintings are traditionally created on the clay walls of houses. These Bhil paintings usually contain large shapes with dots placed uniformly in numerous different patterns and colours. These dots and patterns on the painting represent something that the artist wants like an ancestor's or deities blessing. Some common depictions include nature, plants and animals, Bhil deities, birth and death, rituals, as well as festivals.
How to create a Bhil painting?
Bhil art is bright and colourful. Hence, your young one will surely enjoy recreating his or her favourite animal in this style. Here, we have a tutorial on how to make a deer in the Bhil Art form.
Kalamezhuthu Art
Kalamezhuthu art is a ritual art of the people of Kerala, drawn on the floor during festivities and special occasions. People practice this art form as an offering to deities like Bhadrakali, serpent god, Ayyappan etc. As one of the most graceful art forms on this list, artists have a preset way of creating these paintings.
First, one draws the diety using natural pigments like charcoal, rice flour, powdered leaves, turmeric and lime. The artist uses his bare hands and starts the picture in the centre, developing outwards. Once the 'Kalam' or image made on the floor is ready, people worship the deity and sing hymns in their praise. Following this, people erase the drawing by dancing on it through ritualistic steps. Communities like Theyyampadi Nambiars, Theeyadi Nambiars, and Kurups, practice this art form.
How to create Kalamezhuthu art?
Kalamezhuthu art is a great addition to your home during festivals like Lakshmi Pooja or Diwali. You can recreate this art form using bright and colourful rangoli powder. Furthermore, this can be made a family fun activity by roping in your kids to create the artwork with you. They will surely enjoy it. Here is one such artwork to inspire you.
Kavad Art
Kavad art is a portable story-telling tool that also acts as a temporary place of worship. This art form is created by combining the skills of carpentry, painting and storyteller, also referred to as a suthar, a chitrakar, and a bhat, respectively. The Kavad is made in the Bassi village, in Chittorgarh.
Firstly, the Suthar community makes colourful wooden boxes or Kavads. Then, the storyteller or Bhat creates engaging stories for the consumer. Lastly, the artist illustrates the story onto the wooden box. The 500-year-old art depicts Gods and Goddesses in epic myths like those of Ramayana, Bhagavad Gita, Mahabharata, and the Puranas. Therefore, we believe this to be one of the most unique art forms from India!
Sohrai and Khovar Art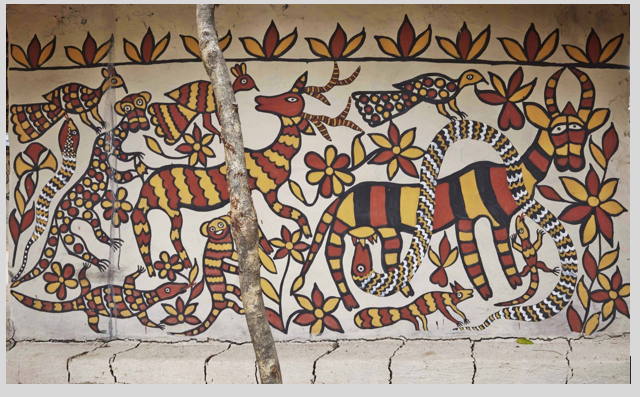 Khovar and Sohrai painting is a type of mural art created by women in the Hazaribagh district of Jharkhand. People create Sohrai art during harvest festivals, while Khovar paintings are made during weddings.
The word Khovar comes from 'Kho' meaning cave and 'Var' meaning husband. Khovar paintings are traditionally black and white. Artists prepare the background by spreading a coat of black mud followed by a coat of white mud. Then, the artist carves images like peacocks, snakes cows or goats into the dried mud by peeling them using a tool.
On the other hand, women create Sohrai paintings on mud houses with colourful paints as an offer of thanks to the forces of nature.
Furthermore, they make these forms of art on paper and cloth to be sold to patrons.
How to draw Sohrai and Khovar Art?
Below, we have a tutorial you can look at to learn how to draw Sohrai and Khovar Art of Jharkhand.
Phad Painting
Phad paintings are a type of Indian folk art from the state of Rajasthan. It is the traditional, religious style of scroll paintings, done on a piece of cloth or canvas. Phads generally depict the stories of folk diets, thus, they are a portable temple. Additionally, Phads also showcase the tale of heroes like Prithviraj Chauhan. These paintings are generally orange, red and yellow coloured.
How to create Phad paintings?
Recreating this art form is difficult for beginners. Furthermore, it requires complex pre-preparations. Your children can help you with this pre-preparation, thus keeping them engaged. Firstly, you need to stiffen a cotton cloth with starch made from glue and boiled flour. Then, use a stone or glass paperweight to polish the surface by rubbing vigorously. Thus, your Phad is ready. Now you can paint on it using regular paint.
Patachitra Painting
Patachitra is a traditional, cloth scroll painting art form, from Odisha and West Bengal. The word 'Patachitra' comes from 'patta' meaning cloth and 'Chitra' meaning picture. The paintings depict mythological and religious themes as well as epics. Some popular examples include:
Thia Badhia, a portrayal of the Lord Jagannath temple
Krishna Lila, the story depicting Lord Krishna's powers as a child.
Dasabatara Patti or the ten avatars of Lord Vishnu
Panchamukhi, which is the depiction of Lord Ganesh as a five-headed deity
Artists use natural and vibrant colours to create the paintings. Additionally, the artwork contains bold outlines and decorative borders. One of the most popular Patachitra artists is Raghunath Mohapatra.
Kalamkari Painting
Derived from the words "Kalam" meaning pen and "Kari" meaning craftsmanship, the Kalamkari art form is created by families in Andhra Pradesh and Tamil Nadu. This Indian traditional art form depicts scenes from epics such as Ramayana and Mahabharata as well as musical instruments, animals and flowers. People practised Kalamkari for over 3000 years and made it using a Kalam or a bamboo reed on fabric. Artists use natural and earthy colours such as vegetable dyes, indigo, black, rust, and mustard to paint on cotton fabric and sarees.
How to create kalamkari paintings?
The below tutorial will help you create your own kalamkari wall artwork. You may also use a bamboo reed pen instead of a brush.
Cheriyal Scrolls
Cheriyal Scroll Painting is a modified version of the Nakashi art that originated in Telangana. Here, artists paint 40-45 feet long scrolls to depict stories from Indian mythology and Puranas. The scrolls are made of hand-woven khadi fabric and treated with a special solution to make them thick and stiff. Furthermore, the coating applied preps the fabric to absorb the colours better, thus, increasing the lifespan of the painting. Artists use natural colours and squirrel hair brushes to create the artwork. Only a few families in the Cheriyal village in Telangana, practice this art form.
Mandana Art
Mandana art form is one of the oldest forms of Indian art. Artists draw on the walls and floors of houses in Rajasthan as well as Madhya Pradesh to protect both their homes and the fireplace. Traditionally created by the women of the community, Mandana paintings contain cotton, twigs, squirrel hair, as well as a brush made from a date stick.
The base consists of cow dung, rati or clay, water, and red ochre. Then, the artists create motifs using, brick, lime and chalk powder. Some motifs visible in the paintings include geometrical shapes, peacocks, tigers, people and deities.
How to draw Mandana art?
Look at the video below to get an idea of how to create Mandana paintings.
Rajput Painting
The Rajput paintings originated in the Rajputana royal courts of Rajasthan around the 17th and 18th centuries. These paintings generally depict Hindu epics such as the Mahabharata and Ramayana, as well as scenes from Hindu mythology. The paintings are done with very minute details and bold colours, that are extracted from minerals, plants, clams and stones. Additionally, artists also used pure gold and silver. Artists painted intricate images using fine brushes made from squirrel hair, on the walls of palaces, Havelies as well as the inner chambers of the forts.
Rajput paintings are classified into two styles, the Rajasthani style from the courts in Rajasthan, and the Pahari style from the courts of the Himalayan foothills.
Chittara Painting
Chitra paintings are created by the women of the Deewaru community in the Sagar district of Karnataka. They are intricate wall paintings done using natural substances such as rice paste, rocks, yellow seed, etc, on walls and floors coated with red mud. The primary colours visible are red, yellow, black and white.
These paintings generally depict the daily lives of tribal people, animals, flora, and religious ceremonies. Additionally, the artwork also shows human activities, festivities as well as objects used on a day to day basis. There are 97 motifs in the paintings, some of which are, 'Ele', 'Nili Kocchu', 'Basinga Nili', 'Nili', and 'Kalasa'.
Kalighat Painting
The Kalighat painting style was developed in the Mid-19th century in the Kali Temple of Calcutta. People known as 'patuas' made these drawings on paper. They depicted scenes of everyday life and mythological deities in a simplistic but, captivating manner. The artists generally used colours like indigo, Indian red, grey, ochre, blue and white. The primary distinguishing characteristic of Kaligahat paintings is the seamless, free-flowing outline of the artwork. This style of painting has inspired many artists, including the famous Jamini Roy.
Mysore Painting
Mysore painting evolved in Mysore city. The paintings depict Hindu deities and scenes from Hindu mythology.
There are a number of steps involved in creating the artwork. Firstly, the artist creates an initial drawing of the picture on the base, with cartridge paper. Then, they make a 'gesso paste' out of Zinc oxide and Arabic gum. When applied, this paste gives the paintings an elevated, carving life effect. Then, the gold foil is attached to the surface and the painting is completed using watercolours and squirrel, goat or camel hair brushes. Finally, after the paint is completely dried, a thin paper is used to cover the artwork.
Modern Indian Art
Modern Indian art is an amalgamation of Western styles as well as Indian themes and images. These paintings potray scenes of regular Indian life. The common mediums used include oil colours, watercolours as well as a plastic emulsion or acrylic paint.
Some popular modern art artists are Bal Chanda, V. S. Gaitonde, Manishi Dey, Tyeb Mehta, Mukul Dey and Akbar Padamsee. Another artist is Jayasri Burman, who works with watercolours to portray female figures or mythic elements.
How to create modern Indian art?
Use the tutorial given below as inspiration to begin your journey through modern Indian art.
Conclusion
India's cultural diversity can be witnessed through its vibrant art and paintings. Each state, region, culture and tribe in the country has a specific style of art that beautifully showcases their people's beliefs and customs. These customs and beliefs are then transmitted from one generation to another, thus, keeping these art forms alive even today.
Generally, most Indian art paintings depict the daily life of the people, animals, nature as well as deities and the myths surrounding them. These engaging stories will surely transport you back in time.
FAQS
1. How are Indian Paintings classified?
Indian paintings are broadly classified as murals, paintings of coth and miniatures. Murals refer to large artworks done on solid structures like the walls and floors of temples. Painting on cloth traditionally referred to created scrolls of religious texts. On the other hand, miniature art was created on paper, marble or palm leaves and depicted intricate images of deities and people.
2. Who is the father of Modern Indian Art?
Raja Ravi Varma is called the father of Modern Indian Art. He was an Indian painter of the 18th century who achieved fame due to his portrayal of scenes from the Mahabharata and Ramayana.
3. What are the basic painting techniques for beginners to follow when creating modern Indian art paintings?
Underpainting: This technique refers to working paint from thin to thick, especially when using slow-drying colours like oil paint.
Blocking in: Beginner artists can use brushes of various types to block in form and paint. You can use both a flat as well as a round brush to cover large areas while using a smaller brush only at the end of the painting process.
Dry brushing: Use a dry brush to apply and spread the colour onto your artwork. This adds a beautiful feathered texture to the piece.
Sgraffito: Alternatively, you can remove paint when it is wet using a cloth or pointed object. This technique is generally used to depict hair, grass etc.
Glazing: Glazing is the method of laying a coat of transparent paint or protective solvent over a dry painting. This is used to intensify the colour as well as protect the piece from future damage.
4. How to create natural paintbrushes?
Traditionally, artists used material from nature to make brushes. You can do the same and recreate the texture seen in Indian art.
Materials required:
Sticks
Lots of interesting pieces of nature like leaves and flowers
String or Elastic bands
Paint
Paper
Begin by collecting items from nature. These can be leaves and flowers of different patterns, shapes and textures. Then, attach these pieces of nature to the stick using an elastic band or string. Now your brush is ready for little ones to paint with.
Alternatively, you can use hair (horse, goat or human) to make a paintbrush. Gather all the hair together. Then, glue and bind it to the end of a stick or old paintbrush. Now, your brush is ready to use.
5. What other popular folk art can your kid be inspired by?
India is home to more than 50 types of folk art. Kids can gain inspiration from other popular Indian folk art forms like Madhubani art, Warli art and Gond Paintings.
Share with your friends