India is home to a vibrant culture and heritage. A big part of that is the art and architecture present in the country. The diversity from more than 2500 tribes and ethnic groups, has led to the creation of a variety of tribal and folk art seen in the country. These include Warli art, Madhubani paintings, Gond paintings, and many more. Tribal art is rich in symbolic images that depict certain rituals or characteristics of the tribes. The colorful images may also depict the story of local heroes and legends.
The art forms given below are only an introduction to the rich heritage of India.'Unity in Diversity' indeed, these art forms will certainly be an inspiration for your child's artistic vision.
Types Of Tribal Art Forms In India
Warli Art
Warli paintings use basic geometrical shapes like a triangle, circle or square to portray human activities like hunting, farming, festivities, dancing and other scenes of daily life.
Unlike other tribal art forms on this list, Warli paintings are not so bright. They use primary colours for their paintings. These paintings are traditionally painted in white on a dark red background. Due to its simplistic and monochromatic nature, the art form shows many similarities to pre-historic cave paintings.
Saura Paintings
Sura paintings by the Saura tribe of Odisha are a style of mural paintings that depict the everyday life of a village farmer. Painters paint white geometric designs over red or yellow ocher backdrop. People create these paintings for important events like marriage and childbirth. Bearing a stark resemblance to Warli in its simplicity, this tribal art from India is one of the most graceful Indian art forms. Look at these Saura Paintings to know more!
Bhil Art
Bhil art originates from Madhya Pradesh, Gujarat, Rajasthan, and Maharashtra. A characteristic of the Bhil community, the paintings depict their daily lives. In these paintings, the Bhils try to connect their art with their gods and goddesses and nature. Bhil art contains the sun, moon, deities, plants, and animals, all drawn from natural herbal colors on walls or paper.
People used turmeric, oil, leaves, vegetables and flour to create the images. Bhil painters used twigs or neem sticks to draw large, unlifelike shapes of everyday characters. Dots and several patterns in the paintings stand out strikingly against an earthen background.
Tanjore Paintings
Also called Tanjavur paintings, this art form originated in the state of Tamil Nadu. Tanjore paintings depict the region's rich artistic tradition. They showcase Hindu Gods and Goddesses and the myths surrounding them.
This classic South-Indian art style is famous for the use of gold foil, vibrant colours, glass and stone on wooden boards made of teak wood or jackfruit. Painters depict the deities to have a round face with oval eyes. The main body contains shapes like an arch or curtain.
Kalamezhuthu Art
Kalamezhuthu art is a ritual art of Kerala drawn on the floor during festivals and special occasions. One of the most graceful Indian art forms on this list, artists have a pre-determined way of creating these paintings. First, one draws the diety using natural pigments. After this, people worship the deity and sing hymns in their praise. Following this, the drawing is erased by dancing on it through ritualistic steps.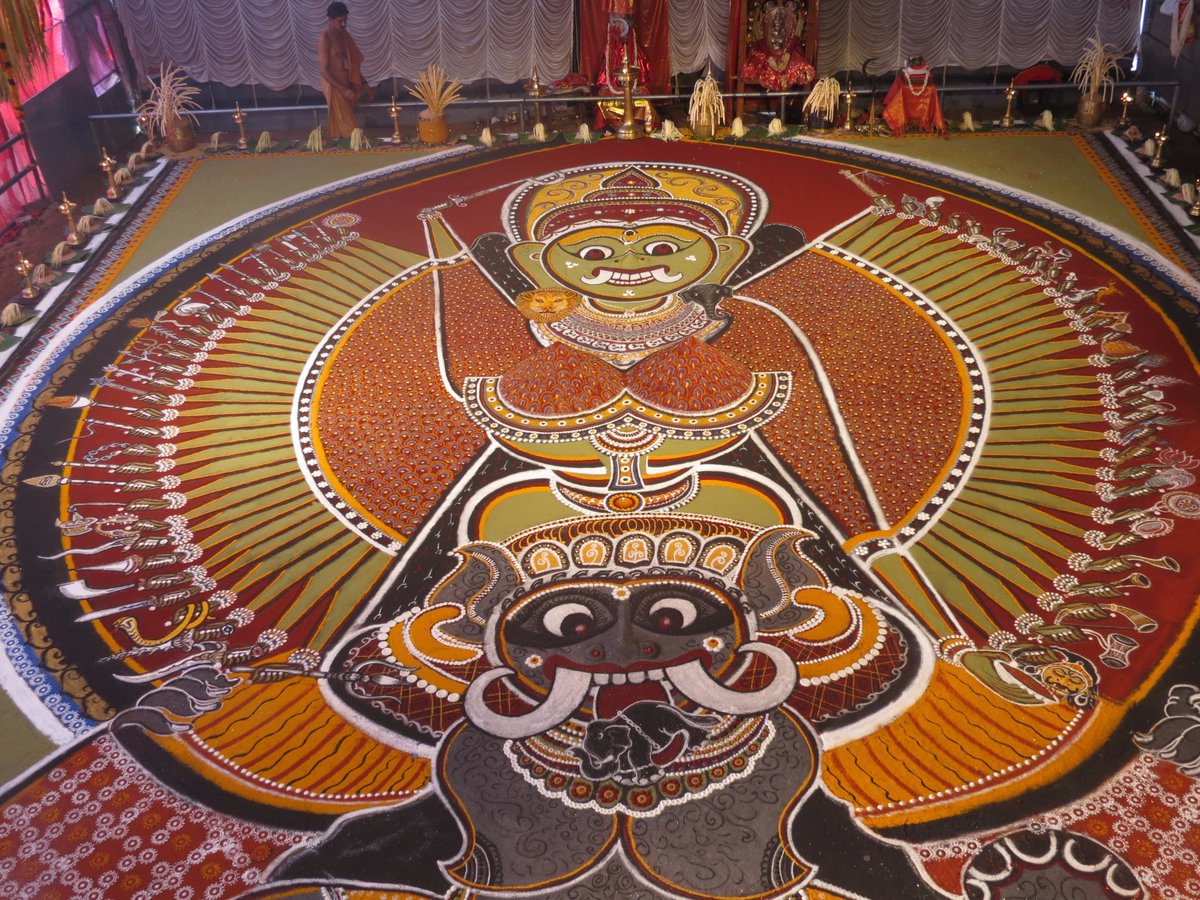 Gond Paintings
Gond paintings, created by the people of Gond tribes living in Madhya Pradesh, express the religious sentiments and devotions of the people. The themes in this art form range from nature, god, man, and other objects used in daily life. Rich in color, and details, this intricate art makes for a stellar installation anywhere.
The paintings contain lines, dots, and dashes drawn from naturally derived objects like charcoal, colored soil, leaves, cow dung, and tree sap. Painters create vivid images by placing dots in an upward, downward, and sideways manner over previously painted dots.
These pictures are painted on paper, cloth, or canvas. One will find a plethora of Gond paintings in Madhya Pradesh during major festivals like Holi or Diwali. These paintings are of high quality and can last up to 20 years without any tampering.
Kawad Art
Also called Kavad art, this 500-year-old art form from Rajasthan is practiced by the Jangid Brahmins of Chittorgarh. Kavad art, created on three-dimensional wooden boxes, shows Gods and Goddesses in epic myths like those of Ramayana, Bhagavad, Mahabharata, and the Puranas. Therefore, this happens to be one of the most unique art forms from India!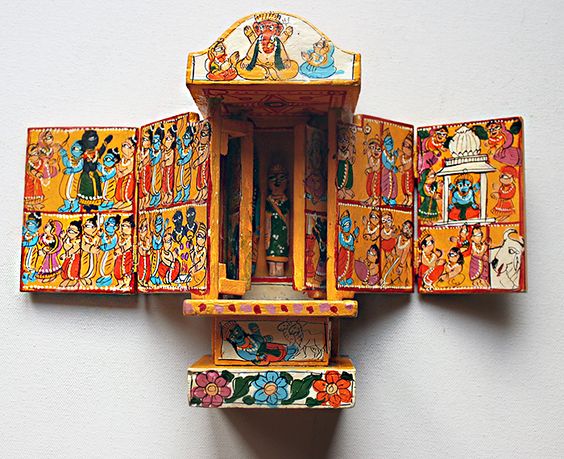 Khovar Art
This traditional wall art originated in Jharkhand. The word Khovar comprises two words- Kho meaning cave and Var meaning husband. Khovar is a matriarchal art as rural women paint it to decorate the wedding chambers of a newlywed couple.
Artisans prepare the backdrop by applying a coat of black mud followed by a coat of white mud. After this, the images like snakes, peacocks, cows or goats are carved into the dried mud by peeling them using a tool.
Conclusion
Therefore, these Indian art forms make for some extremely graceful aesthetic expressions. Made with earthly simplicity sans any expensive implements, such art forms are the proof that less is more. Practiced by several individuals to this day, these Indian art forms keep the rich culture and heritage of our country alive.
As enthusiasts of traditional art, Team Podium invites you to join us on this lively journey. Do read our update on Promising Indian Art Forms which make Excellent Storyboards to know more about the world of grace and divinity.