The abundant natural beauty of India's North-Eastern states has always been the talk of the town. However, there is more to the heritage of these humble regions. The vibrant culture and rich tradition of folk dances from North East India is an attractive feature of their cultural history. While we stumble after listing Bihu, Mayubhanj Chhau, and Manipuri– there is more to the glory of folk dances from the seven sisters located in North east part of India. Graceful and joyous, these folk dances from North-East India are sure to make you rejoice with their beats!
India has a large and diverse folk dance repertoire. In reality, most Indians, particularly those who live in rural regions, consider these dances to be a vital part of their amusement and celebration. Further, folk dances performed by common folk are a reflection of the communities. North eastern Folk dances also serve to showcase the country's diversity in tradition and culture.
Consequently, there are so many different types of folk dances in India that counting them all seems like a Herculean task. However, we'll ease it out for you and tell you about folk dances from North-East India beyond Bihu and Manipuri! To know more about how north-east Indian dance forms figure in Classical dances of India, check out this interactive read on the Podium Blog.
Bardo Cham – North Eastern Dance from Arunachal Pradesh
State- Arunachal Pradesh
The Sherdukpen tribe in the West Kameng district performs Bardo Chham. The dancers wear animal masks and perform to the beats of a variety of percussion instruments. A festive exultation in the victory of good over evil, the Bardo Cham is every bit of a surreal experience.
The Sherdukpen tribe believes that there are twelve different bad powers that arrive in different months to disrupt the community's happiness. Henceforth, the masks represent bad powers, and the goal of this art form is to keep these forces at bay. Before showing their dancing abilities, men and women dress in bright colours.
Wancho Dance – North Eastern Dance from Arunachal Pradesh
State- Arunachal Pradesh
The Wancho tribe performs this dance at festivals and other important cultural events. The dancers dress traditional garb, and the men carry a sword in their right hand. They perform a unique dance step that involves sword thrusting. After they've finished, the women begin to dance, and their song is frequently a response to the men's folk song. Over a period of time, the entire procedure is repeated.
Ponung – North Eastern Dance from Arunachal Pradesh
State- Arunachal Pradesh
Ponung is one of Arunachal Pradesh's most popular folk dances. It features female dancers and who perform before the harvest of main crops. They frequently dance in formations while holding one other's hands. These dancers are led by a man who sings a variety of songs and plays the 'Yoksha,' a sword-like musical instrument.
In the entire act, this is the sole instrument that is utilized as a prop. The contestants dress in traditional garb, which consists of a long black shirt and a skirt-like garment.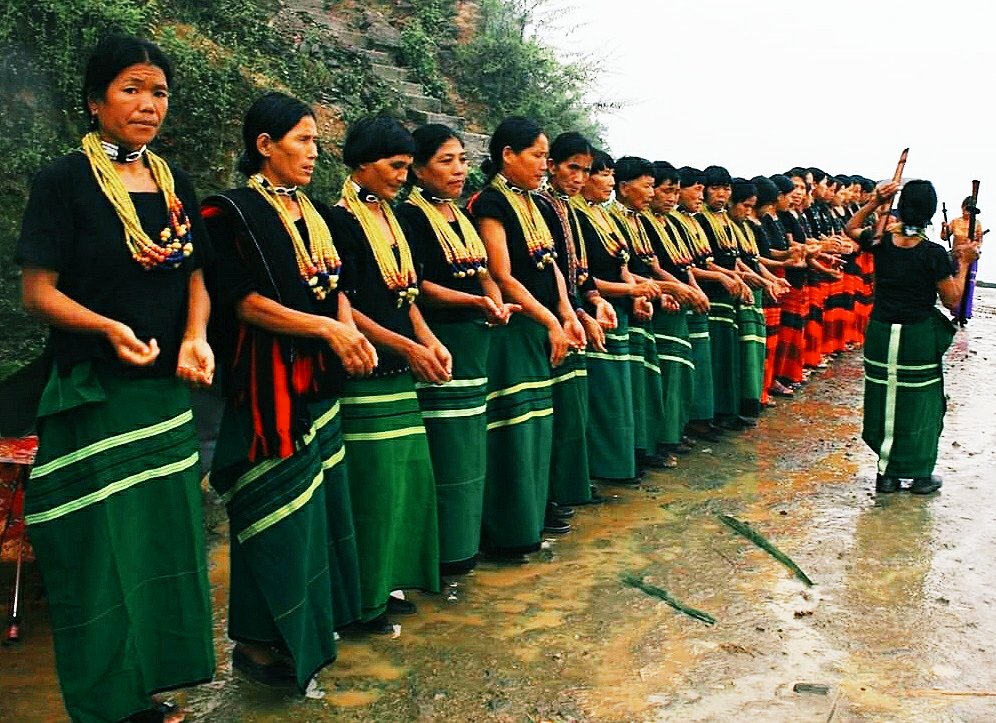 Bagurumba – North Eastern Dance from Assam
State- Assam
As a part of the Bagurumba festival of the Assamese Bodo tribe, the Bagurumba dance is an earthly manifestation. The dance is mostly performed by ladies and is accompanied by instruments such as drums and flutes.
Since Bagurumba is inspired by nature, it is further divided into various other segments, each of which inspires itself from the natural elements such as animals, plants, birds, insects, water, air, and so on.
Ojapali – North Eastern Dance from Assam
State- Assam
Ojapali is a blend of music, dancing, and story telling that is of Assam's oldest dance styles. Usually performed by male artists, Ojapali features the main artist and his assistants. One of the assistants is known as 'Daina Pali,' is the primary sidekick, among the others. Ojapali performers put up dance performances on themes from Hindu lore.
Though it is a male bastion, female performers have also taken up Ojapali to showcase their craft. A shamanistic and ritual performance related to Shakti Worship, this folk dance features as a premier folk dance from the North-East.
Jhumur/Jhumair – North Eastern Dance from Assam
State- Assam
While the males play instruments, the female dancers synchronize their movements by wrapping their arms around the waist of the next dancer. Tea plantation workers are the main performers of Jhumur.
Jhumur is often their only form of relaxation, and it surely refreshes them after a long and exhausting day. This dance form dates back to the Mesolithic period and brings out the true beauty of community festivals.
Ka Shad Suk Mynsiem – North Eastern Dance from Meghalaya
State- Meghalaya
Shad Suk Mynsiem is a harvest dance event. The dancers form two circular formations, one with the girls in the inner circle and the other with the males in the outer periphery. While the girls' dance motions are delicate, the men perform powerful movements. This dance is a representation of the earthly spirit, which is both fertile as well as protective.
Flute, Spanish guitar, and a variety of percussion instruments are used to create the rhythm and melodies of Ka Shad Suk Mynseim.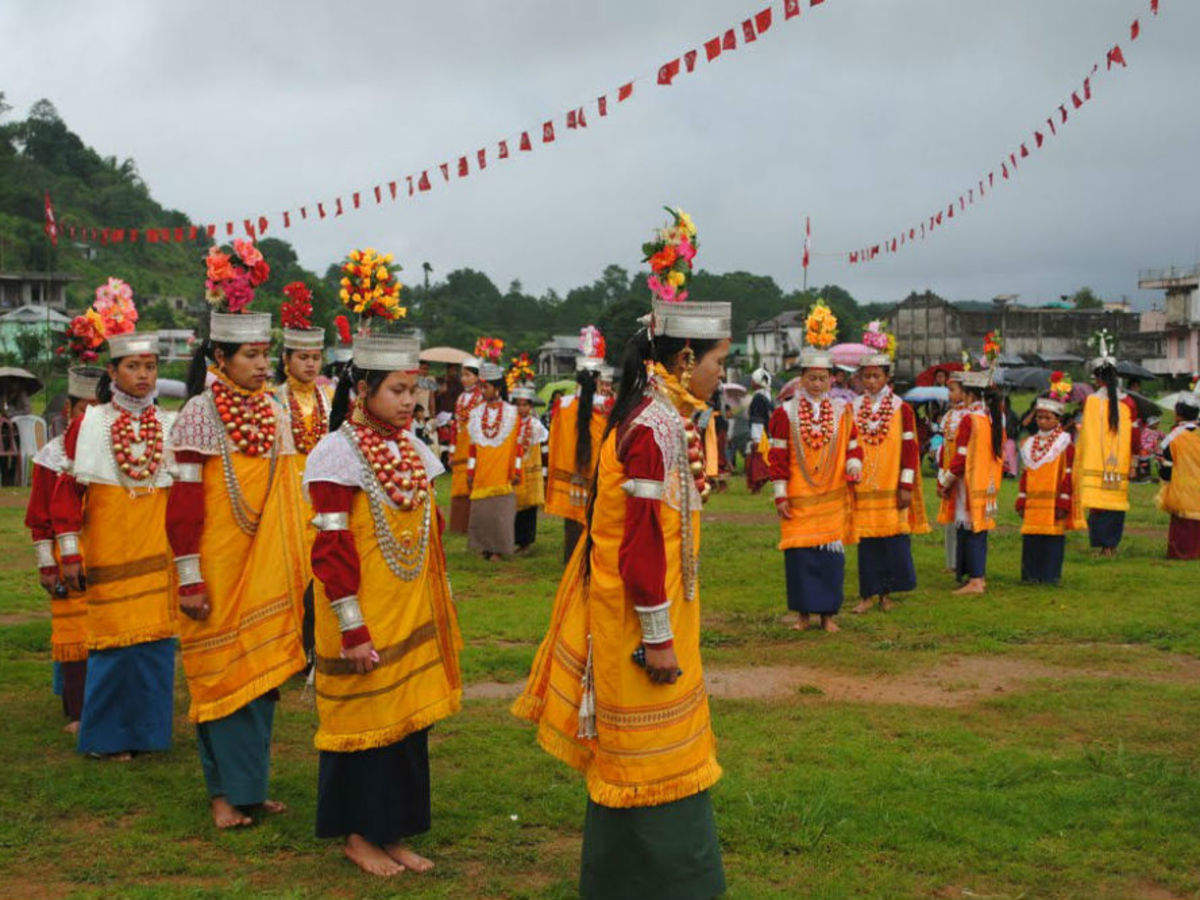 Buiya – North Eastern Dance from Arunachal Pradesh
State- Arunachal Pradesh
Buiya dance, performed by the Digaru Mishmis of Arunachal Pradesh, is a highlight of many tribal celebrations. Before beginning the act, women dancers form a straight line, allowing for an unusual formation. Furthermore, men contribute to the performance by playing instruments like as drums, gongs, and cymbals.
Bihu – North Eastern Dance from Assam
State- Assam
The most significant aspect of the Bihu festival celebration is Bihu. Young men and women execute the dance, which is accompanied by the playing of pipes and drums. The lyrics of the songs that accompany the dance performance play an important part in spreading love. Before starting the dance, the dancers normally form rings or rows.
Maruni – North Eastern Dance from Sikkim
State- Sikkim
Maruni is the main feature of Sikkim weddings. It is performed by both men and women dressed in colourful clothing. The artists are joined by a comedian known as 'Dhatu Waray,' who makes fun of the audience. The performance features nine different musical instruments together known as 'Naumati Baja.' Though the dance has its origins in Nepal, it is also an essential element of Sikkim's culture.
Chang Lo – North Eastern Dance from Nagaland
State- Nagaland
The Chang Lo dance is customary dance. It commemorates an enemy's defeat. Dancers dress up like warriors and demonstrate military tactics. The clothing are frequently theatrical, adding colour to the performance. Women, on the other hand, swoon over their heroes, as evidenced by the dance.
Dhol Cholam – North Eastern Dance from Manipur
State- Manipur
The drum is one of the most prominent instruments in Manipuri dances. One of the dances performed during the Holi celebration in Manipur is the Dhol Cholom, a drum dance. Men execute the dance while playing the dhol and displaying acrobatic abilities. The dance normally starts slowly and progressively picks up speed.
Cheraw Dance – North Eastern Dance from Mizoram
State- Mizoram
The dance consists of a series of expertly choreographed manoeuvres using the movement of bamboo staves. Women dance in between the bamboo staves while the men move horizontally and vertically. The challenge is not to get caught between the staves. The staves' movement creates a distinct beat that aids the dancers in their movements.
Hojagiri – North Eastern Dance from Tripura
State- Tripura
The dance is performed during festivals, such as 'Laxmi Puja', 'Durga Puja' and the third day of 'Dusshera'. Women balance bottle and earthen lamps on their head.
Final Words on North Eastern Folk Dance Forms
Although North-East Indian states look small enough on the map, the plethora of meaningful folk customs lend them a magnificent reputation. Therefore, Podium feels immense pride in introducing you to these dance forms which are a great departure from the strictures of classical dance. A picture of grace and simple gaiety, such dance forms live to sing to us about the brilliant aspects of the North-Eastern states of India.
You can also check out our latest update on the Navrasa as well as Odissi! More awaits you on our classical dance archives where you can immerse yourself among Bhavas, Mudras, and Ghungroos.
Do look out for our live Kathak Classes offered on our website and enroll yourself in this journey of synchrony and joy!
Share with your friends